Washington couple brings healing to first responders one conference at a time
A husband-and-wife team's events are aimed at reducing providers' stress, stigma and suicides
---
The mantra "Everybody goes home at the end of the shift" has stuck with me throughout my law enforcement career. This guiding principle drove me to cover my partners and effectively apprehend criminals to minimize the risk of officer injury and death. This mantra also reinforced the camaraderie I felt in the military and that drew me to police work. My partners are my brothers and sisters – members of my extended family.
But what about once officers go home? Do we apply this mantra to our partners during their off-duty time?
Over the past seven years, the nonprofit First H.E.L.P. (previously known as Blue H.E.L.P.) has worked to bring awareness to officer suicide, reduce mental health stigma and connect officers with resources. First H.E.L.P.'s work has spotlighted the alarming numbers of officer suicides around the country.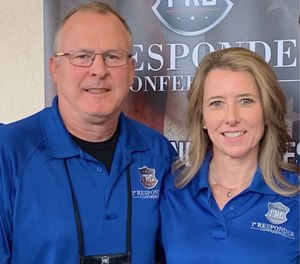 HOW CAN WE BE MORE PROACTIVE?
Helping officers struggling with suicidal ideation is a critical task. How can we be more proactive in dealing with stress and less reactive?
First H.E.L.P. partners with 1st Responder Conferences to facilitate conversations and heal law enforcement, fire, EMS, corrections, dispatch, and active-duty military and military veteran communities. 1st Responder Conferences does this by organizing training conferences around the country, and bringing in regional resources that will be accessible to members of these communities and their families once the conference is complete.
The founding members of 1st Responder Conferences are a wife-and-husband team, Shawn and Jeff Thomas. Together the Thomases have more than 57 years of law enforcement experience, having both retired from the same Washington law enforcement agency. Shawn served in many different roles: as a patrol deputy, on the metro street crimes team, on the special investigations unit, in metro patrol, with explosive-detection dogs, on the peer support team, and with the officer wellness unit. Jeff served in patrol, with detectives and with SWAT for 18 years and as a master police officer/trainer.
DAY-TO-DAY STRESS MOUNTS
Despite all the high-stress jobs Jeff performed in his career, it was the politics within his department that ultimately caused him problems. In 2015 Jeff was struggling with organizational stress. "The suspects and the interactions with the world were the greatest thing ever," he said – but what bothered Jeff were command decisions impacting line-level deputies that made no sense. These day-to-day stressors started to mount. Jeff began using alcohol to cope.
Alcohol abuse is cultural in the first responder professions and America. "I don't think I'm an alcoholic," Jeff said. "I think I'm an alcohol abuser to cope."
Jeff continued to show up to work and do his job, but sometimes he was hung over from the night before. Shawn knew Jeff had a problem, but she also knew Jeff had to get to a spot where he wanted help. As she watched, the alcohol abuse kept getting worse.
Jeff began to get tired of feeling like garbage. He finally realized enough was enough and told Shawn he needed help. Jeff and Shawn did not feel comfortable reaching out to their agency. Instead, they turned to a confidential resource that directed them to a trusted 30-day treatment facility. Jeff needed the change of scenery to break his habit of alcohol.
Jeff was not officially diagnosed with post-traumatic stress injury (PTSI). His greatest problem was his use of alcohol to cope. Jeff knows everyone has a different story and path to recovery. "The one thing about health and wellness and first responders is it varies so much from person to person," Jeff said.
After the 30-day program, Jeff returned home and to work as a new man.
Jeff's and Shawn's journey with stress and alcohol spotlighted a void for law enforcement officers and other first responders. "During that whole process…we realized that if we were both first responders and did not know where to go to get help, there had to be other people out there" in similar situations, Shawn said.
As Shawn discussed this need with her agency, her peer support captain encouraged her to host a mental health and wellness conference for first responders and their families. After the first conference, five responders reached out for help. This confirmed what Shawn and Jeff already suspected: A lot of first responders were suffering in silence.
1st Responder Conferences has hosted more than 30 conferences around the country. First responders call Shawn and Jeff after events to tell them the conferences saved their lives. They have a stellar volunteer group that organizes the conferences. As they travel the country, they identify and vet regional resources in the area that are available to first responders. Jeff knows how important this is because when he needed help, he wasn't going to settle for just any resource. He wanted a resource that understood first responders, and he wanted to be surrounded by other people like him – people who felt like he did: Everyone goes home at the end of the shift, and everyone gets the opportunity for support.
Jeff got the help he needed, and now he and Shawn are making help available to other first responders across the country.
To bring 1st Responder Conferences to your region, visit https://1stresponderconferences.org/. Hear more from Shawn and Jeff in the podcast below. 
NEXT: Download "Smash the stigma: Building a culture that supports officer wellness"