How to become a Texas Ranger
You don't have to be Chuck Norris to become a Texas Ranger, but you will need to be exceptional
---
By Police1 Staff
Long before the legendary Chuck Norris donned the iconic Stetson-style hat on-screen, Texas Rangers like Frank Hamer and Bill McDonald proved that there's a reason these elite law officers have become synonymous with being tough.
Rangers were those "who could not be stampeded," said longtime unit chief Colonel Homer Garrison, Jr.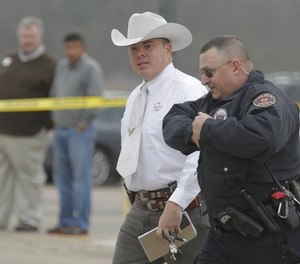 And as McDonald himself so famously said when he showed up to stop a prizefight alone, "One riot, one ranger."
Indeed, the Rangers have never needed the likes of Norris, as indestructible as he may be, to lend them a reputation; their distinctive grit has made them one of the most famous, and effective, law enforcement agencies in the world.
Perhaps understandably, then, becoming a member of this select unit within the Texas Department of Public Safety (DPS) is about as challenging as is the job, though certainly not impossible for those willing to work hard and pay their dues.  
Do you think you have what it takes to wear the Cinco peso badge? Keep reading to find out. 
Who are the Texas Rangers?
While their role in Texas law enforcement has changed over the years, today's Rangers serve within DPS' principal criminal investigation division, where they focus on major violent crime, public corruption and cold cases, as well as officer-involved shootings.
The Ranger Division is also responsible for overseeing the state's border security operations program and DPS tactical operations, which includes the Special Operations Group, comprised of the DPS Special Weapons and Tactics team, Regional Special Response Teams, Ranger Reconnaissance Team, Crisis Negotiations Unit and the Explosive Ordnance Disposal Team.
Minimum Requirements 
In order to be considered for a position as a commissioned Ranger, each applicant must meet the following:
Be a citizen of the United States.
Be in excellent physical condition.
Have at least eight years of experience primarily conducting major crime investigations with a bona fide law enforcement agency. 
Be currently employed as a commissioned officer with the Texas Department of Public Safety, with the rank of at least Trooper II; more information on becoming a Texas State Trooper can be found on the DPS website. 
but what are the real requirements?
In reality, successful candidates will need to go above and beyond if they ever hope to make their mark as a Ranger. Not only is this a small unit to begin with, with only 166 commissioned Rangers currently serving about 30 million citizens across the state, but it's also not uncommon for more than 100 officers to apply for a single opening. 
And if the right candidate doesn't come along, says Byron Johnson of the Texas Ranger Hall of Fame and Museum, they don't necessarily make a hire at all. 
"The Rangers are very determined that only people that are deserving of being in the Rangers get into the Rangers in terms of qualifications and abilities," he said.
There are, however, a few things budding Troopers and criminal investigators can do to make themselves, in essence, stampede-proof.
1. Demonstrate your ability to work independently.
As former Ranger Captain Bob Crowder once put it, "A Ranger is an officer who is able to handle any given situation without definite instructions from his commanding officer or higher authority. This ability must be proven before a man becomes a Ranger."
This definition holds true today as much as it did 60 years ago. While today's Rangers of course have access to modern communications systems, they're still expected to work with limited supervision in the field, oftentimes while coordinating with other state and local agencies.
"Everybody's so busy," said Captain Wende Wakeman, "that you can't have somebody who's not pulling their weight, so you've got to have guys just like the guys I supervise. If they need guidance and we're veering off course a little bit, then we'll correct it and get back, but that's very rare." 
For retired Ranger Richard Sweaney, being able to pull this off is all about confidence learned through experience. "I think the mentality to become a Ranger is very important because the type of people that we hire and the most successful are people that have confidence in their abilities," he said.
2. Be really good at your job.
According to Captain Wakeman, who made history back in 2014 when she became the first woman promoted to the rank of Ranger lieutenant, making the cut in the Ranger promotion process really comes down to the candidate's track record within DPS, no matter their gender.
"If you've done a good job in whatever job or position you've held in this department, and you're good at what you do, and you can talk to people and you can conduct thorough investigations and are successful, then you have as good of a shot as anyone," she said.
3. Nail your written and oral board examinations.
While the promotion process has changed since Captain Wakeman first became a Ranger in 2008, it's still incredibly competitive today, she said. At the time, all aspiring Rangers in the state would sit for the entrance exam once a year, each one vying for maybe a handful of positions scattered across the state.
"Now there's a tad of an advantage," she said, "because you actually know what you're putting in for and where you're going to go." And though this may mean fewer candidates per open position, you shouldn't count your lucky stars just yet.
"A lot of people will put in for one vacancy," said Wakeman, "but they may only take the top 10 written scores to the board. So if 50 people put in, only the top 10 will go."
And then there's, of course, the oral board examination to get through, the score from which will be added to your written score to determine your ranking for the position. 
[Be prepared: The toughest oral board questions and how to answer them]
4. Have the right heart for the job.
"I can't think of a single Ranger who does this job for any other reason than they want to help people, they want to do the right thing, they want to make the world a better place," said Captain Wakeman.
That's the true heart, she says, of the select few who get to wear the badge. 
But it's also about having the motivation to persevere, no matter the personal cost. 
"This group of people is the most dedicated group of people I've ever been fortunate enough to be part of in my life," Wakeman said. "They'll go hours and hours and hours and work non-stop with little to zero sleep ... and they do it because they have the drive to do it."