DT Research to showcase new rugged tablets at IACP 2016
The DT395CR and DT395GS are built to withstand 4-foot drops and temperatures ranging from -4 degrees Fahrenheit to 140 degrees Fahrenheit
---
By Police1 Staff
DT Research will have their new rugged tablets on display at IACP 2016.
The DT395CR and DT395GS are built to withstand 4-foot drops and temperatures ranging from -4 degrees Fahrenheit to 140 degrees Fahrenheit. The water, dust and humidity-resistant touchscreen tablets have 8.9 inch anti-glare displays with 1920x1200 resolution.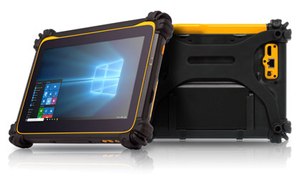 Running on Intel Atom Quad Core CPUs with 4GB RAM, the tablets weigh 2.87 pounds and are built with security in mind. Their "Device Guard" feature locks the device so it can only run trusted software applications.  Both models are customizable with a range of fully-integrated options, including a 2D barcode scanner and HF/RFID 13.56MHz reader.
The DT395GS model is built with a GNSS module that is compatible with existing GIS software for mapping applications. 
The base unit has a $1,200 MSRP. For more information, visit their website or go see them at IACP booth #5651.