FBI director: Sex trafficking victims 'need a hero'
FBI Director James Comey said 82 minors had been rescued in the US through an international effort held this month to locate victims and arrest the perpetrators
---
By Dana Littlefield
The San Diego Union-Tribune
SAN DIEGO — Calling child sex trafficking a "scourge," FBI Director James Comey announced Monday that 82 minors had been rescued in the United States through an international effort held this month to locate victims and arrest the perpetrators.
Of those minors, three were teenagers from the San Diego area.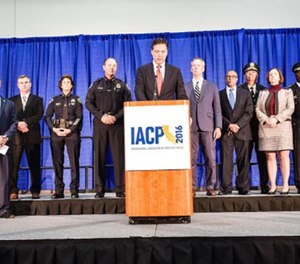 "All of our folks hit the streets from truck stops to the darkest corners of the internet and dimly lit street corners," Comey said at a news conference to announce the results of Operation Cross Country, which ran from Oct. 13-16.
"These children trapped in this hell need a hero," he said. "And the men and women who work for us, federal agents, state agents, local police officers and partners around the world are those heroes."
Comey's comments came during the International Association of Chiefs of Police convention in San Diego. The association is the largest police organization in the country with a membership of more than 20,000.
This was the10th time the FBI has led Operation Cross Country in the U.S., and — for the first time — in conjunction with law enforcement agencies across the world. Canada ran an operation called Northern Spotlight, through which authorities were able to find and rescue 16 children.
Authorities in Cambodia, Thailand and the Philippines were able to recover 25 children, including a 2-year-old girl.
In addition to the 82 victims who were rescued, 239 traffickers and their associates were arrested as part of the operation, Comey said.
He said the numbers are actually slightly down compared to last year.
"What it confirms to us, as we find dozens and dozens of children and lock up hundreds of perps, this is a problem that's very much alive even after 10 years of law enforcement focusing on this effort," he said.
Joining Comey on stage were other law enforcement officials from around the country and around the globe who have participated in the effort to combat sex trafficking. Among them was San Diego Police Chief Shelley Zimmerman.
Eric Birnbaum, special agent in charge of the FBI's San Diego division, said three pimps were arrested during the operation and the San Diego victims, ages 16 and 17, were offered services immediately, including food, clothing and shelter.
"It's just important for us as a society to recognize that the problem exists," he said.
Comey explained that the children and teens identified in the operation ended up in the sex trade through a variety of means. Some were exploited by relatives, gang members or "independent criminal contractors."
He said young people in foster care tend to be particularly vulnerable.
Comey also noted that some of the victims are "lured into a world of advertising themselves through things like Backpage." Backpage.com is a classified advertisement site that allows users to post ads for escort services.
The CEO of Backpage.com, Carl Ferrer, was arrested earlier this month in Houston and charged with pimping a minor, pimping and conspiracy to commit pimping. Two other shareholders face the same conspiracy charge.
Comey said the central challenge in prosecuting those who host sites like Backpage is proving that they knew users were posting ads for criminal acts.
John Clark, president and chief executive officer of the National Center for Missing & Exploited Children, said the organization receives about 10,000 reports of child sex trafficking each year, a figure he called "massive."
"And that's just the ones that are reported," he said. "We know that in this dark world there are many, many more situations that are going unreported. So this has to stop."
He and others asked for the public's help in identifying potential cases of child sex trafficking. Chief Donald De Lucca, first vice-president of the International Association of Chiefs of Police, said the association put together a "toolkit" for officers on the street to assist them recognize the signs that point to sex trafficking and respond appropriately.
"As we know it's going to be some officer on the street that's going to make a difference on a daily basis," said De Lucca, chief of the police department in Doral, Fla.
The latest iteration of Operation Cross Country was the largest in the history of the initiative, according to the FBI, with more than 400 law enforcement organizations in the U.S. taking part. Additionally, there were several dozen operations across Canada and 10 in six cities in Cambodia, Thailand and the Philippines.
"All of us sign up for law enforcement not because of the money but because we want to do work with moral content," Comey said. "There is no work we do that is deeper in moral content than the rescuing of children."
McClatchy-Tribune News Service