Mainstreaming officer mental health concerns: 4 programs on display at IACP
Fitness, health and mental resilience are finally being promoted holistically to prevent officer burnout, PTSD and suicide and keep cops healthier and more productive
---
Services for officer wellness were sprinkled throughout the exhibitors on the floor of the IACP 2018 convention center. This is good news for law enforcement.
I am rapidly becoming a candidate as an exhibit at the National Law Enforcement Museum, ready to be stuffed and on display under the 1970s era of policing exhibit. There are many changes I can point to with great pride in our profession since my swearing in as a 21 year old with three weeks of FTO and no guarantee I would ever attend a police academy. The training requirements, advancements in officer survival tactics, communications technologies and the profession's leadership in hiring a diverse workforce are all great accomplishments I have witnessed.
We are now in an era where two remarkable advancements are happening. One is the application of technology to our patrol, investigative and management operations. The other is the growing equivalence of officer wellness as a partner to officer survival.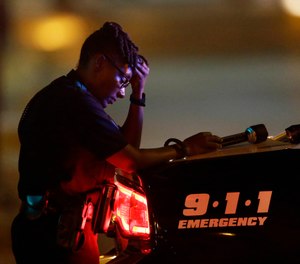 Fitness, health and mental resilience are promoted holistically to prevent burnout, PTSD and suicide to keep officers healthier and more productive across the span of their career. Here are some of the services that were on display at IACP 2018.
1. C.O.P.S.
Concerns of Police Survivors, funded by grants and donations, was on the forefront of dealing with the aftermath of police fatalities. In addition to assisting families of officers killed in the line of duty, C.O.P.S. has grown to be a major source of information on survivor benefits and of training. The Traumas of Law Enforcement course is a foundational necessity for law enforcement administrators, officers and deputies, peer support team members, employee assistance personnel, chaplains, survivors and law enforcement spouses. As an alumnus of the training, I can vouch for its practical value. C.O.P.S. conducts a variety of retreat experiences for survivors for children, parents and partners. Planning for death and disability is a reality every officer and executive should engage in, and Concerns of Police Survivors is there to help before and after.
2. VALOR
The VALOR officer safety and wellness program offers a variety of resources described on its app and website, with links to other Department of Justice (DOJ) training sites, including the Officer Safety Toolkit. Information and training on stress, assaults, active shooter and casualty care, as well as online training after registering as a verified law enforcement officer, shows the breadth of the VALOR program. VALOR is a Bureau of Justice Assistance DOJ funded initiative.
3. National Police Foundation (NPF)
The National Police Foundation is self-described as the "oldest nationally-known, non-profit, non-partisan, and non-membership-driven organization dedicated to improving America's most noble profession – policing." The foundation engages in vital research to advance policing through science.
I have written about the lack of data on crime and officer safety because our successes are not effectively measured. In other words, we know a lot about what happens when an officer is killed or kills a suspect, but we know almost nothing about all of the times these lethalities were averted. NPF recently launched the LEO Near Miss initiative that encourages law enforcement personnel to "share their near-miss stories and the lessons learned from them to prevent fellow officers from being injured or killed. If we can help a brother or sister in blue make it home at the end of his or her shift, we have an obligation to act. Sharing your story is an anonymous, secure, non-punitive and confidential process according to the effort's information website. Line officers and leaders should be become well acquainted with the National Police Foundation.
4. First Responder Center for Excellence
Originally built around serving fallen firefighters, the First Responder Center provides a wealth of information and training on first responder wellness, including great relevance for law enforcement.
"The National Fallen Fire Fighters Foundation (NFFF) was created by Congress in 1992 in support of the NFFF, the First Responder Center plans to become the leading resource for first responders and their family members in addressing physical and psychological health issues and to promote research in relevant fields to increase awareness of first responder health issues as well as prevent first responder deaths and injuries."
Mainstreaming mental health
The proliferation of government, non-profit and for-profit entities devoted to comprehensive wellness for police officers is a step forward for law enforcement. And don't forget Police1.com's leadership in this arena regularly offering articles and training on this critical issue.