IACP 2019 preview: Funding for the 21st century law enforcement officer
To offer competitive wages while addressing the rising costs of employee benefits, departments are encouraged to consider non-traditional grant programs
---
By Police1 Staff
Guidelines and recommendations have been made as it relates to challenges in police hiring, such as advancing diversity and inclusiveness, as well as changing standards on tattoos. Yet little has been published on how to pay for qualified candidates who share the values and vision of the community and the department.
Currently, the opening of the COPS Hiring Program (CHP) grant solicitation is on hold until further notice due to the issuance of a nationwide injunction by a U.S. District Court.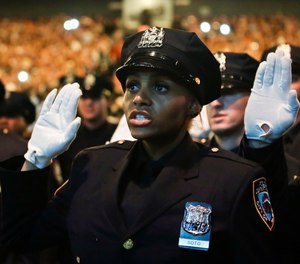 To offer competitive wages while addressing the rising costs of employee benefits, departments, in partnership with their finance office, are encouraged to consider non-traditional grant programs to receive funding beyond the limits of their operational budget.
On Sunday, October 27 at IACP 2019, PoliceGrantsHelp Grant Operations Manager Stephanie Bays and Senior Grant Consultant Samantha Dorm will present on a session that reviews alternative grant funding opportunities to address this crisis.
The course will cover the basics of police grants, how agencies should prepare for grant applications, the types of grants that most commonly fund police as well as the federal funding landscape for law enforcement in this current fiscal year.
In addition, the speakers will offer tips on funding for personnel, equipment and supplies from sources outside of the criminal justice system. This includes resources offered through economic development initiatives, health, education, and corporate grant foundations. 
"Departments need the tools and resources to staff appropriately in order to keep their communities safe. We hope that by sharing our grant expertise we can give direction on some alternative strategies they can explore while we wait for vital programs like the COPS Hiring to open," said Sarah Wilson, vice president of PoliceGrantsHelp. "We appreciate IACP giving us a platform to do so."
PoliceGrantsHelp
The team at PoliceGrantsHelp is ready to help agencies with their grant needs. Our grant assistance program includes several options including grant research, grant writing and grant application review