DHS chief: Gyrocopter that landed on US Capitol lawn came in 'under the radar'
Secretary Jeh Johnson said it's too soon to say whether Wednesday's incident should prompt changes in security procedures
---
By Erica Werner
Associated Press
WASHINGTON — Homeland Security Secretary Jeh Johnson said Thursday that a gyrocopter that landed on the lawn of the U.S. Capitol "apparently literally flew in under the radar."
Johnson said it's too soon to say whether Wednesday's incident should prompt changes in security procedures. "I want to know all the facts before I reach an assessment of what can and should be done about gyrocopters in the future," he said.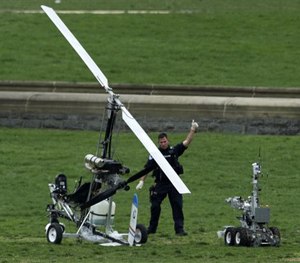 Johnson confirmed that the pilot, Florida postal worker Doug Hughes, was interviewed by the Secret Service almost two years ago. He said the Secret Service passed along the information from that interview to "all of the appropriate law enforcement agencies."
Johnson said his first reaction on hearing of the incident was to ask, "What's a gyrocopter?"
The tiny, open-air aircraft landed without injuries to anyone, but the incident raises questions about how someone could be allowed to fly all the way from Gettysburg, Pennsylvania, right up to the Capitol. Hughes has said he was making the flight to publicize his concerns about the corrupting influence of money in politics, and deliver letters to all 535 members of Congress on the topic.
"We are a democracy. We don't have fences around our airspace, so we've got to find the right balance between living in a free and open society and security and the protection of federal buildings," Johnson told reporters on Capitol Hill. "And so we want to stay one step ahead of every incident like this, but then again, you don't want to overreact, either."
Johnson defended existing protocols for dealing with the restricted airspace over Washington, D.C., federal buildings and monuments.
"We've got a well-coordinated federal response to dealing with issues of those who penetrate the restricted airspace without permission," he said.
Copyright 2015 The Associated Press