Ex-Ga. officer accused of killing teen faces new charge, report highlights multiple reprimands
Miles Bryant's new charge of first-degree burglary shows it is not the first time he has been accused of trying to enter someone's home
---
By Shaddi Abusaid
The Atlanta Journal-Constitution
DORAVILLE, Ga. — A former Doraville police officer accused of killing a teenage girl and hiding her body near a Gwinnett County creek now faces an unrelated burglary charge, jail records show.
Miles Bryant, 22, is charged with murder in the disappearance and death of Susana Morales, a Meadowcreek High School junior who vanished July 26 while walking home from a friend's house. The 16-year-old's skeletal remains were discovered near Dacula in February, six months after her family reported her missing.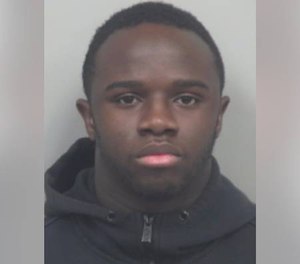 Authorities said Bryant's personal gun was found during a search of the area where Morales' body was left. He had reported that weapon stolen hours after the teen's disappearance, Gwinnett police Chief J.D. McClure said.
The former officer was initially fired and charged with concealing Morales' death and making a false report of a crime. Those charges were later upgraded to include kidnapping and murder.
A Gwinnett warrant application said Bryant "lives in close proximity to victim and dumped her naked body in the woods."
[EARLIER: Former Ga. officer charged with kidnapping and murder of 16-year-old girl]
On Wednesday, Snellville police charged him with first-degree burglary in connection with an unrelated 2019 break-in at the home of a high school classmate, Channel 2 Action News reported.
That classmate's mother told the news station she recognized Bryant after his recent arrest and notified the authorities. Police said the woman has surveillance footage purportedly showing then-18-year-old Bryant walking through her family's home after tampering with the lock on her child's bedroom window. Nothing appeared to have been stolen during the May 2019 break-in, the family told police at the time.
The homeowner filed a report and the case was assigned to a detective, but no leads could be developed and the investigation into the break-in was later closed, Snellville police said Saturday. Late last month, the case was reopened "based on new information" and investigators determined Bryant was responsible for the burglary, police said.
It's not the first time the former officer has been accused of trying to enter someone's home, records show.
Although Bryant was never charged in a Dec. 11 incident, a woman filed a report with Gwinnett police after a neighbor told her someone "tried to break into her apartment," according to an incident report. A Doraville police sergeant contacted the woman, who said she believed Bryant tried to get inside her apartment, an internal document shows. The woman told police she "has known and been close to (Bryant) since elementary school."
She turned over camera footage of the incident, which the document said showed Bryant knocking on the door and turning the knob, "but doing nothing egregious."
Bryant told the sergeant he stopped by to check on the woman after "she made a questionable post on social media that worried him." That sergeant concluded in his report that the woman "misinterpreted" Bryant's gesture "to check on her well-being."
On Jan. 4, about six weeks before his arrest, Bryant was told to no longer contact the woman, according to an email sent to Doraville police Chief Chuck Atkinson by another officer.
Bryant was reprimanded multiple times during his 21-month employment with the Doraville Police Department, according his personnel file. But a supervisor wrote in a 2022 performance review that Bryant was well-liked by his colleagues and had the potential to be "an exemplary police officer."
His February arrest in the killing of Morales stunned many in the community. It also angered some who felt the police didn't take the teen's disappearance as seriously as they should have.
In an interview with The Atlanta Journal-Constitution last month, Morales' mother said she thinks her daughter may have been found sooner if her case wasn't treated like a runaway.
"It's agonizing. Waiting on the moment she'd return. Waiting on her to call me. Waiting to get news that I need to go pick her up," Maria Bran said. "My hope was always that she would return alive, not the way she was found."
The Gwinnett police department has defended its handling of the investigation, saying detectives followed all leads beginning the night Morales was reported missing.
Bryant remains held at the Gwinnett jail without bond.
©2023 The Atlanta Journal-Constitution.
Visit at ajc.com.
Distributed by Tribune Content Agency, LLC.
PREVIOUS: Former Georgia officer charged with concealing the death of missing 16-year-old girl
McClatchy-Tribune News Service