Investigators: Nashville shooter spent months planning school attack
Authorities stated that while Hale's motive has not been established, she had considered the actions of mass murderers
---
By Peter Sblendorio
New York Daily News
NASHVILLE, Tenn. — Nashville shooter Audrey Hale spent months planning out last week's deadly attack on the Covenant School, investigators said in an update Monday.
Hale, a former student at the private Christian school, fired 152 rounds during the rampage, killing three children and three adults, according to the Metropolitan Nashville Police Department.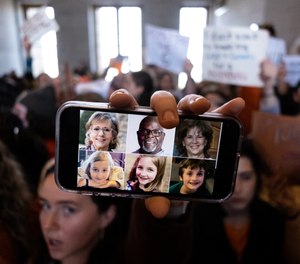 [READ: Covenant Investigation Update]
Investigators cited writings found inside Hale's car and home, which are being reviewed by local police and the FBI's Behavioral Analysis Unit. The investigation has reinforced a belief Hale acted alone, officials said.
"The motive for Hale's actions has not been established and remains under investigation by the Homicide Unit in consultation with the FBI's Behavioral Analysis Unit," police said. "It is known that Hale considered the actions of other mass murderers."
Thousands of people on Monday participated in a school walkout organized by the nonprofit March for Our Lives. The demonstrators congregated at the Tennessee Capitol to protest gun violence.
Monday marked one week since Hale, 28, carried out the shooting inside the elementary school. Police say they received their first report of an active shooter at 10:13 a.m. local time and that they fatally shot Hale at 10:27 a.m.
"Two officers fired on Hale," police said in Monday's update. "Officer Rex Engelbert discharged a total of four 5.56 rounds from his rifle; Officer Michael Collazo discharged a total of four rounds from his department-issued 9-mm pistol."
Hale brought two assault-style rifles and a handgun to the school, officials said. Hale fired 126 rifle rounds and 26 9-mm rounds, authorities said Monday.
Hale may have harbored "some resentment for having to go to that school" and targeted random people while inside, police Chief John Drake told NBC News last week.
The victims included three 9-year-old students, 61-year-old custodian Mike Hill, 61-year-old substitute teacher Cynthia Peak and 60-year-old Katherine Koonce, who was the head of the Covenant school.
Last week, first lady Jill Biden and singer Sheryl Crow were among those who attended a candlelight vigil in Nashville to honor the victims.
©2023 New York Daily News.
Visit nydailynews.com.
Distributed by Tribune Content Agency, LLC.
EARLIER: Police: Nashville shooter fired indiscriminately, did not target specific victims
McClatchy-Tribune News Service