Police: Suspect in slaying of 3 Puerto Rico officers is dead
The man's body was found with a cardboard sign that read, 'I am responsible for the killing of the policemen'
---
By Suzie Ziegler 
SAN JUAN, Puerto Rico — Authorities confirmed Wednesday that the man suspected of killing three police officers this week is dead. 
According to The Associated Press, the suspected gunman was found fatally shot Tuesday with a cardboard sign on his chest declaring him guilty. The man was identified as 25-year-old David Rivera Bátiz. Officials said his death is being investigated as a "possible street justice killing," according to the AP.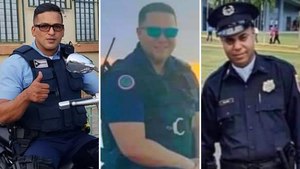 Officials said the sign left on the body read: "I am responsible for the killing of the policeman(men). Here it is." 
"Police don't have anything to do with the murder of this individual," Lt. Col. Rolando Trinidad said at a news conference. 
Police said Bátiz was from the Puerto Rican city of Ponce where he was suspected in several unrelated killings. 
The three police officers were killed Monday while working a case that began in the city of Carolina and ended in San Juan. Officials said Bátiz was involved in a car accident and pulled out a gun when police arrived, according to the AP. The suspect tried to steal a motorcycle from an officer but failed and shot the officer. Bátiz then hijacked a civilian driver's car and shot at other cops while fleeing. 
Two of the deceased officers were shot and a third was run over. They were identified as Agents Luis A. Marrero-Díaz, Eliezer Hernández-Cartagena and Luis X. Salamán-Conde. A fourth officer was injured.
Puerto Rico police say a man found dead with cardboard on his chest that read "I am responsible for killing the police. Here it is" is the carjacking suspect who killed 3 police officers, Monday. He was found dead near the crime scene where he shot 2 cops & ran over another one. https://t.co/3US7VuGAye pic.twitter.com/AGzCxvkzgB

— David Begnaud (@DavidBegnaud) January 13, 2021
BREAKING: Officers down in Puerto Rico - as many as 3 police officers have reportedly been wounded in an incident near the main airport in San Juan. Video shows one down in the middle of the highway.
Preliminary reports: this started with a carjacking pic.twitter.com/eWtv63i6iL

— David Begnaud (@DavidBegnaud) January 11, 2021