Alaska K-9 stabbed multiple times pursuing suspect
8-year-old Belgian Malinois named MP underwent emergency surgery for three stab wounds and is expected to survive the Saturday incident
---
By Devin Kelly
Anchorage Daily News
ANCHORAGE, Alaska — An Anchorage police dog was stabbed multiple times with a pocket knife while pursuing a suspect in East Anchorage early Saturday morning, police said.
The dog, an 8-year-old Belgian Malinois named MP, underwent emergency surgery for three stab wounds and is expected to survive, police spokeswoman Jennifer Castro said. The dog was recovering at a local animal hospital Saturday.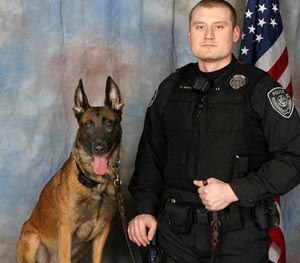 The incident began just after 1:30 a.m., when police received a report of a man trying to stab another man with a machete in the area of North Flower Street and Peterkin Avenue, Castro said in an email.
Officers responded and found the man with the machete, later identified as 37-year-old Nole Hommerding, on the front porch of a home on the 200 block of North Flower Street.
"Officers commanded that Hommerding drop the machete and he ran away from the officers," Castro wrote in an emailed statement. Hommerding still had the machete in his hand, Castro said.
The dog, MP, and his trainer, APD officer Nathan Keays, ran after Hommerding. In an alleyway behind North Flower Street, MP bit the suspect in the hand.
At that point, Hommerding began hitting the dog and pulled out a pocket knife, stabbing him multiple times, according to Castro.
Officers then used a Taser to subdue Hommerding and take him into custody. He was booked on charges of harming a police dog, third-degree assault, disorderly conduct and resisting arrest. He was being held on $15,000 bail.
The dog, who has been with the department since 2009, was taken immediately to the animal hospital for surgery, Castro said. Keays sustained minor injuries.
The incident was unrelated to a shooting that occurred in the neighborhood several hours earlier, Castro said.
While it's less common for a police dog to be stabbed or penetrated with a weapon, suspects do frequently try to punch or hit dogs while being pursued. Several weeks ago, another APD dog, Aerie, was punched and hit by someone intervening in the pursuit of another suspect, Castro said.

Copyright 2014 Anchorage Daily News
McClatchy-Tribune News Service