Calif. bill calling to limit use of K-9s in arrests, crowd control not moving forward
The bill called for changing the standard for releasing police K-9s to bite someone, which would make it the same standard for officers using deadly force
---
By Teri Figueroa
The San Diego Union-Tribune
SACRAMENTO, Calif. — A bill that would have severely restricted law enforcement officers' use of K-9s, banning use of the animals to help make arrests and control crowds unless there is an imminent threat of danger or death, will not be moving forward this year.
The proposed legislation, Assembly Bill 742, called for elevating the standard for when a police K-9 could be released to bite someone, making it the same standard required under the law for when an officer can use deadly force. Had it become law, it would not have affected officers' ability to deploy dogs for search and rescue and to detect drugs and bombs.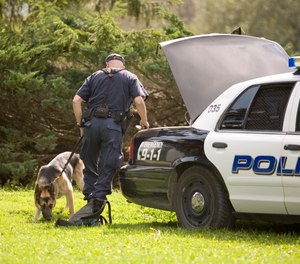 Advocates of the bill say authorities have historically used dogs against Black and Brown people, and AB 742 would end that traumatic practice. Police say the dogs de-escalate situations, and restricting use of the specially-trained animals could lead to more shootings by officers.
The bill was moved to the Assembly's inactive file Wednesday, and will not be moving forward this year, according to the office of Assemblymember Corey Jackson, who proposed the bill. Jackson still needed votes, and law enforcement had been working hard to fight it. His office said he hopes to work with policing agencies to bring it back next year.
In February, Jackson, D-Perris, issued a statement that the bill "seeks to end a deeply racialized, traumatic, and harmful practice" by prohibiting the use of the dogs for biting.
"The use of police canines has inflicted brutal violence and lifelong trauma on Black Americans and communities of color," Jackson said. "This bill marks a turning point in the fight to end this cruel and inhumane practice and build trust between the police and the communities they serve."
American Civil Liberties Union California Action, which focuses on legislation, co-sponsored the bill. Executive director Carlos Marquez III said the bill "sets a new standard for California and marks an important step in ending this inhumane practice."
In 2021, injuries caused by police K-9s accounted for nearly 12 percent of the use-of-force incidents statewide that led to serious injury or death, according to a report from the California Department of Justice. Of those incidents, about two-thirds of those injured were Black or Latino.
Law enforcement has come out against the measure, saying it removes an effective tool from officers. Many say the dogs help to de-escalate incidents — preventing them from becoming more violent or fatal.
San Diego police Chief David Nisleit issued a statement last week calling it "another flawed attempt by state legislators to reduce racial disparities and use of force in policing."
The chief said categorizing the dogs like a deadly weapon is "misguided and would eliminate a valuable de-escalation tool in instances where other tools may have failed, but deadly force is not warranted."
"The unintended consequence of this piece of legislation will be an increase in officer-involved shootings, officer and suspect injury, and increased threats to community safety," he said.
San Diego police said that over the last five years their dogs went to more than 10,800 calls, and more than 900 people complied with officers "after just the mere presence" of the dog on scene.
They also said one percent of suspects were bitten in that time, and that no one died from the bites.
Race data of the people who were bitten were not immediately available.
The county Sheriff's Department said Sheriff Kelly Martinez was concerned the bill would "inappropriately" subject the use of police K-9s to the same standards as deadly force. Losing it would remove a "critical de-escalation tool from the use of force continuum."
The department said Martinez fears deadly force incidents will increase without the ability to deploy dogs.
At the state level, the California Police Chiefs Association said Tuesday the bill would "decimate" police canine programs, and said the dogs help to de-escalate matters.
"Not allowing canines except in situations as drastic as those requiring the immediate use of a firearm shows a lack of understanding of their comprehensive value and complete disregard for community safety," said Chief Alex Gammelgard, president of the association.
This story originally appeared in San Diego Union-Tribune.
—
©2023 The San Diego Union-Tribune.
Visit sandiegouniontribune.com.
Distributed by Tribune Content Agency, LLC.
McClatchy-Tribune News Service