Ga. sheriff's office celebrates first K-9 deputy retirement
K-9 Deputy Viper has spent nearly 60 "dog years" searching for and successfully snagging human suspects
---
By Police1 Staff
DECATUR, Ga. – Retiring after only 8½ years on the job sounds like a dream come true – unless you are a dog.
To DeKalb County Sheriff's Office K9 Deputy Viper, a Belgian Malinois who will be 12 years old in August, that's nearly 60 "dog years" of searching for and always successfully snagging human suspects wanted by authorities for committing some of the most egregious crimes. Not your average dog's life.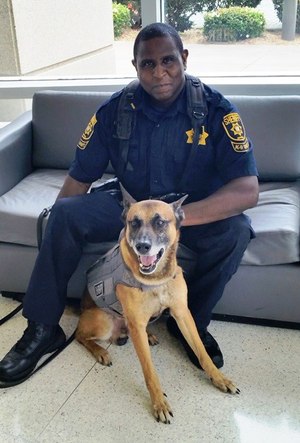 On June 20, 2018, the DeKalb County Sheriff's Office will celebrate K-9 Deputy Viper's retirement from his law enforcement career. The occasion will also mark the first of its kind in the agency's history, as no other K-9 deputy at the sheriff's office has been retired while still on duty.
"Deputy Viper is one of our very first canine deputies," said DeKalb County Sheriff Jeffrey L. Mann. "He joined us when the Field Division initiated the new unit in October 2009, along with K-9 Deputy Rocky, also a Belgian Malinois, who died in 2014. Today, we have two other canine deputies: K-9 Tomi in the Field Division and K-9 Astor in the Jail Division."
Deputy Viper's record includes 860 deployments and 200 tracking assignments. He has located eight firearms and assisted in the confiscation of multiple pounds of illegal narcotics. He has apprehended 247 suspects without biting. In addition to the sheriff's office, he has worked with the U.S. Marshals, local police departments, DeKalb County Schools and the DEA. 
Upon retirement, Deputy Viper will become protector for the family of Deputy Sheriff Michael McRae, his partner and handler. He is the first member of that family to retire, as well.