How one non-profit is standing up for K-9s
K9s United is providing much-needed equipment and training for law enforcement's unsung heroes
---
In October 2014, a K-9 with the St. Johns County (Fla.) Sheriff's Office, Baron, was found dead by his handler in a body of water as officers were responding to a domestic disturbance. Baron was drowned by the suspect while the K-9 was attempting to stop him. The death sent shockwaves through the local community. Debbie Johnson, a financial professional with no prior connection to law enforcement, felt compelled to act in the wake of the tragedy.
"It just captured my heart," Johnson said. "I've always been a dog lover. The only way I can explain it is I just really feel like God laid his death on my heart. I could not get the dog off my mind."
After attending Baron's funeral, Johnson was so moved by the experience that she asked how she could help with the agency's K-9 operations. She made a donation, signed up for a 13-week civilians law enforcement academy, and went on a ride-along with a K-9 handler to further educate herself about the dogs. It was during the ride-along that she learned of the many equipment and training needs that weren't in the agency's budget.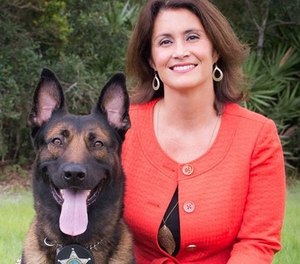 "They're one of the most expensive units to run in law enforcement," Johnson said. "So, I went back to the sheriff's office, where about this time they think I'm crazy, right? Like, 'Who is this girl? She won't go away.'"
Johnson wanted to put on a charity event to raise money for the agency's K-9s, but she couldn't get a guarantee that 100% of the proceeds would go solely to the K-9 unit. That's when K9s United, a 501(c)(3) non-profit organization, was born.
UNSUNG HEROES
It goes without saying that police departments are woefully underfunded, with K-9 units often getting the short end of what little budget agencies have to work with, despite the complications and expenses that come up with them. That's where Johnson comes in.
"K-9s are living, breathing animals," Johnson said. "Things happen. Unexpected expenses, medical bills. It's not like you buy one piece of equipment and then you don't have to replace it for five years. There are always needs."
In the five years since Johnson founded K9s United, the organization has served what she says are law enforcement's unsung heroes – raising over $535,000 and assisting over 100 K-9 units in agencies across the nation. Whether it is for new dogs or training sessions or harnesses, a police department simply files a request for assistance via the organization's website, whatever the need. K9s United then goes directly to the vendor, makes a purchase and donates it to the unit. No matter how unusual or large the request, K9s United works to fill the gap – they've even provided an agency in rural Mississippi with a new SUV outfitted as a K-9 vehicle.  
One of the most common requests from agencies is heat alarms. In places like Florida, heat is one of the biggest threats to the health and safety of K-9s. K9s United provides agencies with a base heat alarm and two additional fail-safes, including one that enables a handler to monitor the temperature in the vehicle via a smartphone app.
Vendors are more than willing to help in order to get costs down. K9s United has had support from a range of companies including Kong, Safariland and Setina Manufacturing, providing K-9 units with the tools and training they need to conduct effective and safe operations.
"I had to immerse myself in the K-9 world and establish relationships with all of these big vendors and the K9 industry," Johnson said. "They typically will relay a discount to enable our dollars to go farther."
Johnson's 8-year-old daughter, Emma, has even got involved. When she was 4, she'd use her allowance to purchase Kong toys she delivered to various agencies around Florida during Christmas. As she's got older, she's been involved in fundraisers such as bake sales.
"She obviously has gone with mom everywhere," Johnson said. "We attend trainings and she's been able to see how K-9s keep us safe. She understands the importance of what they do in our community. It's a family affair."
HONORING AND FIGHTING FOR K-9S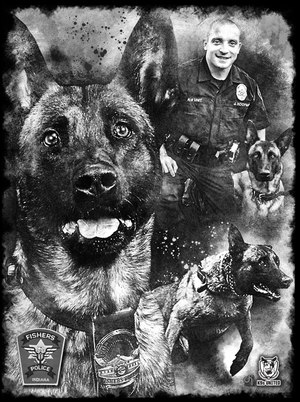 Johnson's mission to honor the sacrifice of K-9s has gone beyond donating equipment: she's also been providing a tribute in the form of commissioned 18x24 canvas portraits that she sends, unsolicited, to each handler who has lost a K-9 in the line of duty. The organization has created 139 portraits so far.
"I've had several phone calls where I've actually listened to grown men get emotional and cry when they receive the portrait," Johnson said. "The response has been overwhelming. You know, that somebody that they haven't even met or know would thank and honor them."
She's also thrown her hat into the political arena. Last year, Florida toughened the penalty for hurting a K-9 or search and rescue animal in the line of duty – a bill spearheaded by Johnson.
"It wasn't easy. I think a lot of people didn't think I could do it," Johnson said. "Who in the world would have thought that we would have been able to pass legislation to where if at least one criminal knew that there was going to be a harsher penalty, that they would think twice before they pulled that trigger."
The impact of Johnson's work has extended to her community. One of the organization's main fundraisers is a series of annual 9K, 5K and one-mile fun runs that double as community policing events. In cities like Orlando, Jacksonville and St. Petersburg, K9s United brings out various units to speak to and educate the community – particularly the youth – about their roles in law enforcement. Johnson believes K-9s are an effective bridge to gaining an understanding and appreciation of police officers and the work they do.  
"My passion is for our youth. The dogs are their bridge," Johnson said. "They're there to see the dogs, but next thing you know, you'll see them talking to the SWAT team. Then after the races you get phone calls and emails of, 'Hey, a high school football team wants to volunteer at your race.' To see the impact on our youth and how they view the police is great."
PROTECTING THOSE WHO PROTECT US
Johnson has no plans of slowing down in her mission to protect K-9 officers. She plans to take her push for harsher penalties for hurting K-9s to the federal level, and her organization is also working on building a dedicated K9 training facility for the Jacksonville Sheriff's Office and surrounding agencies – a model she hopes can be replicated in other jurisdictions. She also plans for K9s United to expand their charity runs beyond the state of Florida and educate communities across the U.S.
Despite the heavy workload, for Johnson, it's the least she can do for her four-legged friends.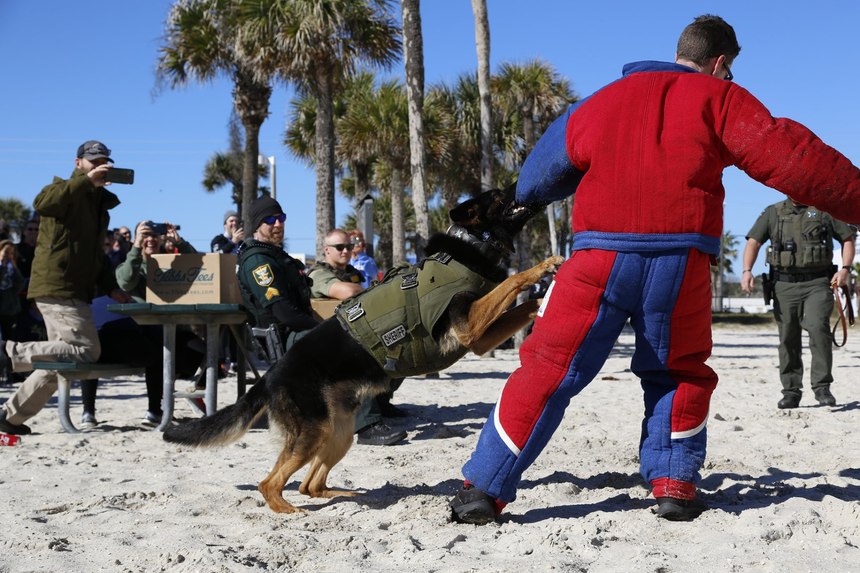 "Police K-9s do so much day in and day out to protect our communities," Johnson said. "Sometimes they're the first ones in, in the most dangerous situations. It's the least we can do for them to support them and make sure that they have everything they need. To me, they're the unsung heroes."
If you'd like to help K9s United fulfill their mission, you can donate to the organization here.