Idaho K-9 dies days after being shot during manhunt
After Jardo was shot Friday, the department was flooded with hundreds of cards and letters of support
---
By Police1 Staff
BOISE, Idaho -- A police dog who was shot last week during a manhunt for a shooting suspect has died, the department reported. 
Boise Police posted several photos and a message on its Facebook page that K-9 Jardo was rushed to the hospital after his family noticed he was acting strangely. He died after going into cardiac arrest.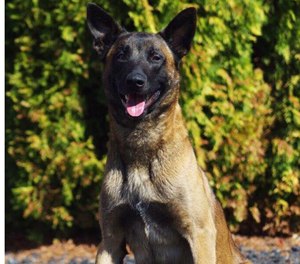 "Jardo served our community and though we were blessed with these few extra days to share with him, he ultimately gave his life in the protection of fellow officers," said Boise Police Chief William Bones.
After Jardo was shot Friday, the department was flooded with hundreds of cards and letters of support.
Jardo, a Belgian Malinois, joined the department in 2013 and was trained to track and apprehend dangerous criminals, the Idaho Statesman reported. 
The six-year-old suffered a gunshot wound to his chest. He lost a lung and a lot of blood during surgery, reported KTVB. 
Officials said they found a hemorrhage near Jardo's heart Wednesday night, leading to the cardiac arrest and eventually his death. 
Two Boise police officers were also shot during Friday's manhunt. Cpl. Chris Davis has been released from the hospital after being shot in the leg. The other officer, a 17-year veteran of the Boise Police Department, remains in critical condition. 
K9 Officer Jardo's final journey.

Our dear Boise friends, we are simply devastated at the loss of our friend and loyal, faithful canine officer Jardo. Jardo was recovering well at home when on Wednesday night, at approximately 8 PM, he collapsed and was immediately taken to WestVet by his handler. Jardo was evaluated and diagnosed with internal bleeding. He was stabilized by the WestVet ER team, with assistance from Dr. Nell Dalton who serves as the Boise Police Canine veterinarian, and prepped for emergency surgery. Two WestVet boarded surgeons worked to save his life, but unfortunately, due to the amount of blood loss, Jardo experienced cardiac arrest and was unable to be revived. Our hearts go out to the men and women who served with Jardo and those who feel his loss so greatly today. We also send our well wishes to Officers Corporal Kevin Holtry and Chris Davis on their continued recovery.

Posted by WestVet 24-hour Animal Emergency & Specialty Center on Thursday, November 17, 2016