K-9 dies from fall through elevator shaft during search for suspects
Police Chief Chad Miller described K-9 Titan's fall as a heartbreaking accident
---
By David Hurst
The Tribune-Democrat, Johnstown, Pa.
JOHNSTOWN, Pa. — An attempted burglary inside a Woodvale warehouse Sunday ended with five people in custody, and a veteran Johnstown Police K-9 died during a search for the suspects.
Johnstown Police Department Interim Chief Chad Miller said K-9 Titan was assisting in the search through a five-story Maple Avenue building when he fell down an unsecured elevator shaft from the fourth floor.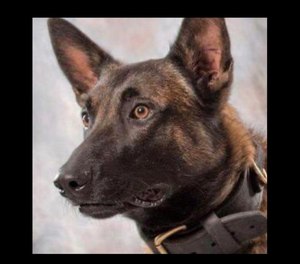 "K-9 officer Titan was the partner of Officer Brian Stevens and served honorably with the Johnstown Police Department since 2014," Miller wrote in a release to media, noting that the trained K-9 died "in the line of duty."
Cambria County 911 officials said police were sent to the scene at approximately 4:15 a.m. Sunday after someone saw flashlights illuminated inside the building, which served as a Goodwill warehouse for years.
The massive brick warehouse is now owned by medical marijuana company Hanging Gardens LLC, but Miller said the building was empty other than "scrap and leftover junk" from a previous occupant.
Miller said police believe the group was targeting copper and other metals from the building and had parked a Ford F-150 pickup in one of the loading bays with plans to haul the metal away.
Officers first arrived at 4:19 a.m., he said.
Miller described Titan's fatal fall as a heartbreaking accident.
The warehouse didn't have electricity, which forced Titan and Johnstown police officers to conduct their search for the suspects inside a dark and unfamiliar space before sunrise, relying on flashlights to guide them, when the Belgian Malinois fell.
Two suspects were located quickly, and the officers then found three remaining suspects during a follow-up search, Miller said.
He said the officers deserve praise for being able to finish the job.
All of the individuals in custody have Mifflin County addresses.
They are:
—Kayla McCarty, 22, of McVeytown.
—Derrick McCarty, 27, of McVeytown.
—Corey McCarty, 24, of McVeytown.
—Robert McCarty, 52, of McVeytown.
—Sean Robertson, 25, of Newton Hamilton.
The group was in police custody Sunday and charges were pending, Miller said.
Cambria County District Attorney Greg Neugebauer said "appropriate actions" will be taken related to the burglary and attempts to escape apprehension in the early-morning entry.
K-9 to be honored
Neugebauer said his office mourns Titan. The DA called the K-9's death a "tragic loss."
"Titan was loved and respected by the men and women who served alongside him, especially his handler, Officer Stevens," Neugebauer said. "Our thoughts and prayers go out to Officer Stevens and his family, and to the entire JPD family during this difficult time."
Johnstown Police Department's K-9 unit indicated Titan will be escorted by police during his procession from the Public Safety Building to the Hindman Funeral Home at 11 a.m. Monday.
Anyone wishing to pay respects to the K-9 can do so along the procession route, which will follow Washington Street to Johns Street before heading onto Main Street and then Frankstown Road, police said.
(c)2020 The Tribune-Democrat (Johnstown, Pa.
McClatchy-Tribune News Service