Why you need to "sell" the K-9 unit to patrol
How well the patrol division and the K-9 unit interact depends on a few important issues
---
Article updated on August 23, 2017.
In most police organizations the K-9 unit is available to support the patrol division. How well the patrol division and the K-9 unit interact depends on a few important issues: primarily the familiarity, confidence and exposure between the units.
Familiarity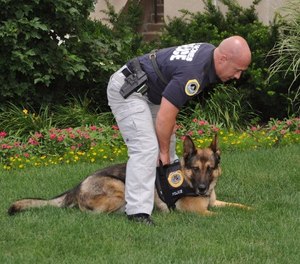 It's the job of the K-9 unit to invite patrol officers to training. Too often the K-9 unit trains independently, yet they are working to support the patrol division. Unless regular patrol officers come to training, they won't know the right way to behave around the K-9.
Over time some patrol officers get familiar with the K-9 division by calling them out, but K-9 guys often assume that the patrol guys actually know how to work around K-9s when that is not actually the case.
Unless K-9 officers make presentations to patrol to explain how to operate in a tracking scenario, they should not be quick to criticize patrol officers for failing to minimize contamination of a scene. They must be taught how the K-9 can save time and effort on the part of patrol officers.
I always try to remind K-9 handlers that cops are by nature proactive, they lose a guy in a jump and run, so they want to take the initiative to follow and find him. It takes restraint and understanding to realize that creating a perimeter and calling in K-9 is not a waste of valuable time, but rather the right way to efficiently locate and apprehend a suspect rather than tromping around in the dark contaminating the scent picture.
Confidence
If patrol calls out the dog for a drug search in a traffic stop, and the dog fails to locate any contraband, the officer may assume the dog is wrong. After all, the officer who called in for K-9 thought the car contained contraband.
If this happens too often the assumption will be that the dog is not capable of finding anything. If however, the officer is invited to training, he can see the dogs working and locating, and passing up blank cars, and get an appreciation for the quality of the K-9s.
Too often, assumptions based on only a few interactions can be made that a dog is ineffective, when that is actually not the case. It is the responsibility of K-9 Unit to sell their program to patrol.
Make presentations and invite patrol officers to participate in training scenarios, like traffic stops. Make regular legal update presentations to keep your patrol guys up to speed on K-9 case law. This interaction shows respect for the patrol officers, and allows K-9 to educate and build confidence in their unit.
Additionally, if K-9 gets a reputation for being lazy and not training, other patrol officers will see it in the dog's performance and lose confidence in the K-9. As a K-9 officer you are required to do six hours a week, but this is a minimum. A dedicated K-9 officer trains all the time, and trains on his own to make his team effective and efficient.
Exposure
In call outs for building and area searches, it is important to remember that regular patrol officers may be uneasy around your K-9. Unless you practice scenarios such as building searches and area searches with the patrol guys you are going to support, they will not know how to act around your dog.
On a building search, if the back-up officer is not comfortable with your K-9, he will pay attention to the dog (your job) rather than his area of responsibility. This can lead to someone getting injured or worse, killed. Where good relationships exist between patrol and K-9, officers feel comfortable working with the K-9 and the K-9 picks up on this. If backup shows fear or unease, the dog will not work effectively.
This exposure is also extremely important in tracking operations, where backup runs with the K-9 officer as his safety officer. In rural tracking, this backup officer is responsible for the handler's safety, so skimping on exposure is a big risk to both handler and backup.
K-9 officers should take the time to create a PowerPoint brief to help patrol understand what you know. Help them understand how to prepare a scene for a successful track. Show them what you need to get your dog to work effectively on a traffic stop when you are searching for contraband. Let them watch your dog work so they can understand the changes in behavior you are looking for during a building search (when your back-up may have a better vantage point) or area search.
It is the K-9 officer's responsibility to keep selling the benefits of the program to everyone. Interaction breeds familiarity and confidence. Exposure leads to a level of comfort with your K-9.