Appeals court: Court was right to dismiss Pulse Nightclub victims' lawsuit against city, police
The suit alleged an Orlando police officer did not enter the club during the 2016 massacre and that the department was not trained properly in active shooter response
---
Tess Sheets
Orlando Sentinel
ORLANDO — A federal appeals court on Monday sided with a U.S. district judge in throwing out a 2018 lawsuit filed against Orlando and its police department by survivors of the Pulse nightclub massacre and family members of those killed.
The 11th Circuit Court of Appeal agreed with a federal judge's decision to dismiss the lawsuit, saying the appeal of that decision did not plausibly plead that the City was deliberately indifferent to victims' constitutional rights."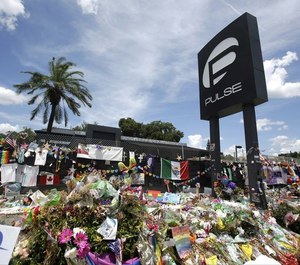 A statement released by city spokeswoman Cassandra Lafser on the behalf of the City of Orlando and OPD said the ruling "reaffirms what we have always believed; that this suit was without merit."
"More than two years after the horrific act of hate inside the Pulse nightclub, our community continues to mourn the 49 lives taken and provide support for all those impacted," the joint statement said. "On the morning of June 12, 2016, local, state and federal law enforcement officers and first responders put themselves in harm's way to save as many lives as possible."
Dozens of victims and family members of those killed in the June 2016 massacre had argued in the lawsuit that OPD Officer Adam Gruler violated their right to due process by failing to go inside the club as gunman Omar Mateen was rampaging inside. The suit also claimed officers had wrongfully detained them after the shooting and the city had failed to properly train OPD officers for the active shooter incident.
The suit was tossed out in November 2018 by U.S. District Judge Paul G. Byron of the Middle District of Florida, who wrote in his ruling that the law "imposes no obligation on the states to protect individuals against private violence" and that Gruler did not act with "deliberate indifference," the threshold for which he could be found to have violated due process, according to the appeal court's ruling.
Byron had also ruled that the plaintiffs failed to provide a sufficient argument that the city's failure to properly train officers violated their constitutional rights. He wrote that they also ignored advice from the district court to specify who the numerous officers named as "John Doe" defendants in the suit really are.
The appeals court agreed with Byron's conclusions, saying "the district court did not err" in dismissing the claims against Gruler or the city and that the suit "does not plausibly show that, but for a lack of training, officers would have entered the nightclub sooner."
In an email, Solomon Radner, an attorney representing plaintiffs in the suit, said the ruling is "disappointing, but all things considered, not shocking. We appreciate the courts giving this case the deliberation it deserves."
McClatchy-Tribune News Service