Convicted killer of Chicago Police leader sentenced to life in prison
Cmdr. Paul Bauer was gunned down in 2018 while attempting to arrest a subject
---
Megan Crepeau
Chicago Tribune
CHICAGO — The man convicted of gunning down Chicago police Cmdr. Paul Bauer in a downtown stairwell in 2018 was sentenced to life in prison Wednesday after emotional testimony from Bauer's family.
The sentence for Shomari Legghette, 47, was mandatory by law, as a jury had convicted him in March of killing a police officer in the course of his duties.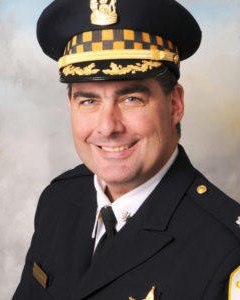 Erin Bauer, the commander's widow, told Judge Erica Reddick of her loss before the sentence was handed down.
"To lose someone so violently adds another layer of pain that is indescribable," Bauer said.
Bauer's teenage daughter Grace also testified, describing for the courtroom an alternate world where her father stayed home on Feb. 13, 2018. "This, to me, is a perfect world," she said.
Prosecutors said the events leading up to Bauer's death that day began when officers patrolling Lower Wacker Drive approached Legghette because he appeared to be urinating in public. Bauer, on duty and downtown for a meeting with aldermen after attending training for handling mass shootings, heard a radio call of a fleeing suspect and spotted Legghette running nearby moments later, authorities said.
Bauer chased Legghette to the top of a stairwell outside the Thompson Center and attempted to detain him, authorities said. The two struggled and ended up on a landing below, where Legghette fired the fatal shots.
The daytime slaying of a ranking police leader while on duty in the middle of the Loop had stunned Chicago.
Throughout the case, Legghette's defense maintained that he fired in self-defense, since he did not know Bauer was a police officer. Legghette himself was expected to testify in support of that theory —but at the last minute, declined to take the stand.
It took a jury took less than three hours to convict him.
Legghette did speak at his sentencing hearing Wednesday, accusing police and prosecutors of framing him, saying that one of the officers who responded to the scene also fired shots down the stairwell that killed Bauer. No evidence of that has ever been presented, however.
"Paul Bauer's death actually was reckless and egregious when he chose to break protocol and use excessive force," Legghette said.
Prosecutors argued Legghette's sentence of life in prison was mandatory. He was a "human crime wave" that day, they said, with illegal body armor, a gun with an extended clip and an ice pick-type weapon. He also was carrying drugs, they said.
(c)2020 the Chicago Tribune
McClatchy-Tribune News Service