How can you translate your LE skills to the private sector? 2 real-life examples
Two career cops are prime examples of how to make the move from serving the public to serving customers
---
A career as a cop can last up to 30 years or more, or it can be cut short for a variety of different reasons. Even in the case where an officer retires after three decades or more, most enter law enforcement at a young enough age that "retirement" actually involves a second career. The good news is that the variety of skills acquired and utilized on the job prepares cops well for the next step in their life journey.
A former NYPD cop and a former El Dorado (Kan.) cop both made a move from serving the public to serving customers and their law enforcement experience enabled them to successfully run a business.
From Policing to Painting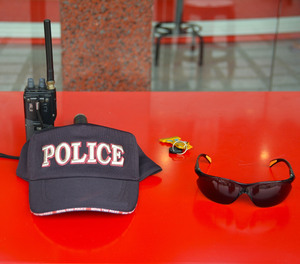 Scott Drummond, 48, always wanted to be a cop or firefighter from the time he was a kid. He fulfilled that dream and joined the NYPD on July 18, 1996, following three years of enlisted service in the Army.
Drummond was a street cop for the entirety of his career. He liked helping his community and saved a couple people in the performance of his duties.
Drummond knew how to talk to people, carry himself and de-escalate situations. People always knew where he stood. He would later effectively translate these skills to the private industry.
"I was a 911 responder from day one. You could count on me to get to the scene first and assess the situation. I'm going first and I'm going fast," he said.
With a total of 21 years on the books – 18 with NYPD and three years of military service – he retired from the NYPD on October 31, 2014. Riding in a patrol car for 18 years had taken its toll, and he decided it was time to leave. He had planned to take life easy but quickly discovered he was sitting around, gaining weight and waiting for his wife to come home from her 12-14 hour daily managerial job.
After five months of retirement, Drummond noticed a Facebook post detailing Pinot's Palette, an art studio chain that serves alcohol to attendees while teaching them how to paint. Drummond and his wife decided to look into the business, which resulted in them purchasing a franchise.
His daughter, Nicole, joined her father's business. With an educational background in international art and business, she brought art school graduates into the business. She is the main instructor along with five additional part-time workers. Drummond's wife, possessing experience in running businesses for the last 10-15 years, handles all the business affairs of the Park Slope Brooklyn franchise.
The studio can hold 64 people. Patrons have the opportunity to take art classes, paint, socialize, and enjoy a glass of wine from the bar. "It's all about having fun. It's something that is different," Drummond says.  Drummond serves the drinks and acts as the host.
"I feel good that I'm doing something. I pretty much live here," he said.
Scott's skills – particularly his involvement in community outreach during his law enforcement days – transfer well into his new business. Though he is not walking a beat, he is quickly able to build rapport with his patrons and serve as the amiable host that provides good customer service.
"I'm an easygoing guy. I'm myself when I talk to people. We hit it off," he says. He is also amenable to hosting kid parties. He recently bought 200 pumpkins so kids could visit the studio and paint them.
Life after Law Enforcement
"My whole life, since a young adult, I've been involved in law enforcement until two years ago," former Officer Jeff Baker, 35, said.
During Baker's high school years, he participated in the Law Enforcement Explorers program with the El Dorado Police Department and engaged in a work/study program that included working with the DARE program.
Following high school and subsequent to a semester at a local college, he joined the Air Force and served four years in the Security Forces.
"I absolutely loved it. It was more than I could have expected it to be," Baker said. During that time, he went to DARE school and became DARE-certified.
Following his stint in the military, he went straight into civilian law enforcement and joined the El Dorado Police Department. After serving a couple years as a patrol officer, he left and went to Park City for 2 and a half years before returning to El Dorado because, having been born there, he felt a certain connection to the people. He rose to the level of Patrol Sergeant.
Baker discovered law enforcement was a rewarding career field. He liked being able to truly affect people's lives and help them get their lives back in order.
"You are intimately involved in their lives and step up to the plate to find solutions," Baker said. His strongest assets as an officer included the ability to be ethical and extremely disciplined even in situations where it may have been easier to make a decision requiring less work.
In 2013, Baker left the El Dorado Police Department after serving there 11 years.
"I got to a point where I had done everything I wanted to do in law enforcement," he said. He wanted his family to see a different side of him. "I'm always very calculated in how I do stuff," he said.
Baker developed a plan and eventually became a franchise owner of landscape group Grounds Guy. He now has a full-time crew that mows lawns, installs irrigation, repairs and lays sod on projects and new construction homes, installs shrubs, prunes and installs patios. Snow pushing and de-icing are additional services offered.
Attributes that translated from his work in policing to the private sector include his integrity and honesty.
"I'll tell you what we can do and what is best for you. It has worked 100 times over with customers. The way you present yourself is half of what people look at as quality," Baker said.
Though Baker admitted law enforcement is his "first love," he acknowledged he had to totally shut the door on it so that his family could see what it is like to have a normal father and husband around.
"For me, I really want to be able to do what I'm doing now. I made this move for my family and myself. I want to be a more well-rounded person than I had become. I didn't know anything else would interest me," he said.
Making the Transition
Though cops tend to love what they do, there is life after being a cop. For those who want alternatives to retirement, these two cops prove that the experience, wisdom and skills learned on the job provide avenues to other meaningful and satisfying pursuits.
Consider their stories and think about how you might approach your life after your career in law enforcement is over. If you're already retired and working a second career like Drummond and Baker, sound off with your advice in the comments area below.
This article, originally published on 2/9/2016, has been updated.