Law Enforcement United: Honoring the fallen, remembering the survivors
LEU honors fallen officers killed in the line of duty and the survivors who are left behind
---
By Susan E. Sagarra, P1 Contributor
Chad Dermyer was a trooper with the Virginia State Police when he was killed in the line of duty on March 31, 2016. He was participating in a training session with his fellow officers at a Greyhound bus terminal in Richmond, Virginia. He approached a suspicious person who produced a handgun and opened fire on Dermyer, fatally wounding him. The suspect fired on the other police officers, who returned fire and killed the suspect.
Dermyer, who was just a couple of weeks shy of his 38th birthday at the time of his death, was a U.S. Marine Corps veteran and had served with the Virginia State Police for 17 months. He previously had served with the Newport News Police Department; Jackson, Michigan, Police Department; and the United States Department of Veterans Affairs Police.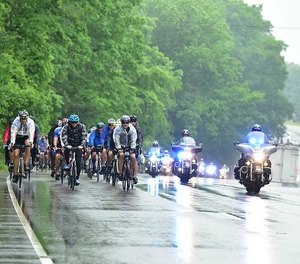 At a candlelight vigil held two days after his death, Dermyer's mother Anne Barnett crossed paths with Sam Frye, the national marketing manager and national chaplain for Law Enforcement United, Inc. (LEU).
The organization is a group of law enforcement, survivors and civilian supporters whose mission is to "honor the fallen and remember the survivors." LEU also provides monetary and awareness support for five causes:
"I have no idea how Sam and I gravitated toward each other at the candlelight vigil," Barnett said. "I honestly have no recollection or idea how we ended up meeting but it was what I needed at that time."
That is one of the goals of LEU, which honors officers who have made the ultimate sacrifice, and provides support and assistance to the surviving family members.
"We have raised about $5 million over the years to support the five main causes," Frye said.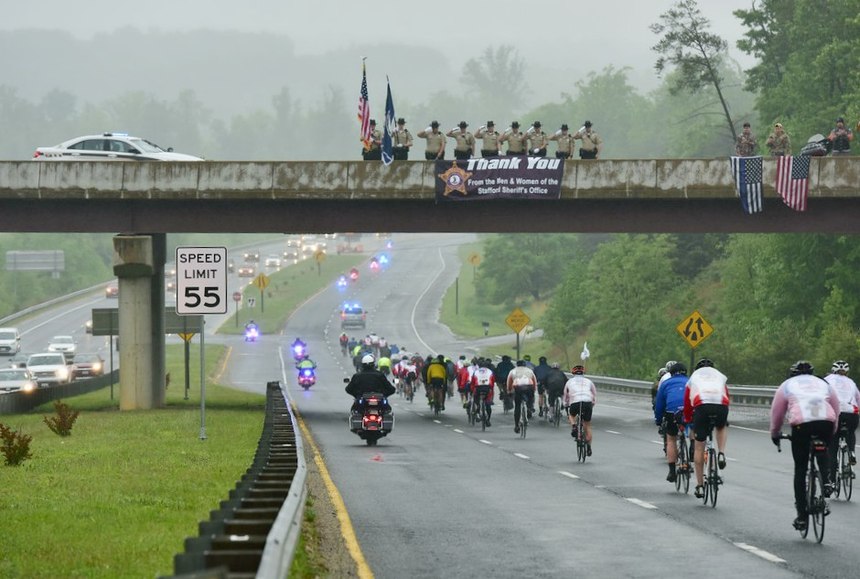 LEU honors fallen members and survivors
LEU was established in 2009 and is a 100 percent volunteer-driven organization. Donations go directly to the causes it supports and board members, staff and members never receive monetary compensation. ​Members pay annual dues of $50.
"The idea is to honor fallen officers killed in the line of duty, but also the survivors who are left behind," said Frye, who is also a police officer. "We were initially part of another organization, but a handful of us branched off and made a commitment in the bylaws to always be 100 percent volunteer. Now we have chapters in nearly 40 states."
LEU supports the five causes with financial support from donations, member dues and sponsorships.
"We have raised approximately $500,000 for C.O.P.S.," Frye said. "That money goes to helping kids attend a week-long camp with other kids who have lost a parent in the line of duty. The camp is an opportunity for them to slow down and heal. Members of LEU have become mentors and now survivors also are becoming mentors at the camp. In August 2004, it cost $557 to send a camper. Today, it costs $670 per camper because there are so many more kids to minister to. There is a lot of healing happening. We also provide grants for the Spirit of Blue Foundation to provide training equipment to communities that can't afford it."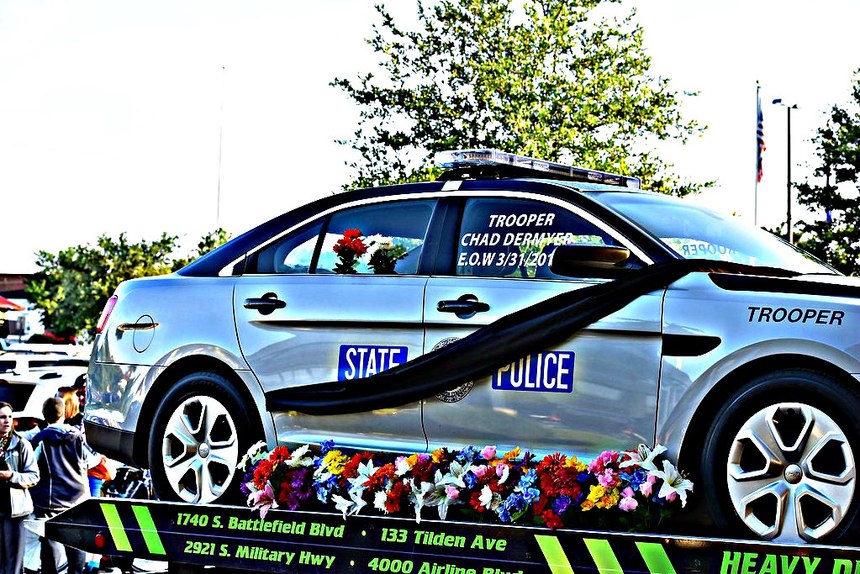 Hope Memorial Bicycle Ride features six routes
Frye said one of the most inspiring events is the bicycle ride during Police Week.
The annual Road to Hope Memorial Bicycle Ride is May 10-12, traveling to Washington, D.C., during Police Week. The Ride encompasses six different routes:
The Road to Hope from Virginia, Pennsylvania or New Jersey;
The Ruff Ride using mountain bikes and traveling from Maryland;
The FLETC (Federal Law Enforcement Training Center) Long Ride from Brunswick, Georgia;
The Tough Ride from Virginia.
Riders must be active or retired law enforcement officers or corrections officers, or an immediate surviving family member of a law enforcement officer who died in the line of duty. Participants must be at least 18 years of age and do their own fundraising to ride or act as a supporting participant (such as working at watering stations along the route or as arrival teams at police departments visited along the way). Bicycle riders must raise a minimum of $1,500, while support members must raise at least $850.
"We have six different routes and some ride 1,000 miles, some ride 850 miles," Frye said. "We stop at the towns and departments along the way where an officer has been killed in the line of duty. Every one of us must raise our own funds for the privilege of riding in rain, snow or sleet. But, it's really cool when we meet the survivors and minister to them."
Family members riding together
Barnett and her husband, Scott Barnett, participated in LEU's Road to Hope Bicycle Ride last year to honor her son Chad. This year, Barnett's other son, John, will ride his brother Chad's bicycle. Dermyer's wife, Michelle, also rides, and their teenage children, Phillip and Page, are scheduled to be in Washington, D.C., for the arrival of all the riders.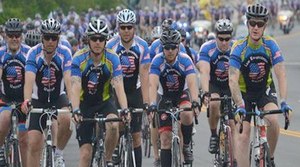 "Sam and I got to talking about cycling and he invited me to go on the bike ride," Barnett said. "My husband and I drive down (from their home in Michigan) to Chesapeake, Virginia, to join the Virginia Division of the Road to Hope Bicycle Ride. When I first got there, I thought it was going to be intimidating. But so many people were so supportive and took us under their wing. We had a car following us throughout the route with Chad's name on it. When we got tired, we would look back and it felt like he was there to remind us to keep going. It was like we had him there pushing us along."
The riders converge at a designated area before making their way together as a group for the arrival ceremony in D.C.
"There is absolutely no better feeling than seeing the survivors, families and departments there," Frye said. "We are able to present the checks and have time for the riders to meet and talk to survivors. Each year each rider gets a bracelet they wear throughout the ride. We also place a flag with a fallen officer's photo and end-of-watch date on our bikes before we arrive. We then give the bracelet and flag to the surviving family members.
"You go there and plan to serve someone you but you're the one who gets blessed. Once you give the flag and bracelet to the family, it's all worth it. Last year, I rode for a New York City officer. His daughter spotted the photo on my flag and yelled, 'That's my Dad!' That was heart-warming and so great to meet the family of the man I was riding for."
LEU helps families year-round
While the bicycle ride is the most high-profile event LEU participates in, Frye said LEU is available year-round to help families.
"Our national division meets once a year and our state divisions meet throughout the year," Frye said. "It's a 12-month ministry organization. People call me, or they reach out to each other. I've spent hours on the phone. We all develop relationships and people heal listening to each other, trying to define their new reality. So many friendships have formed because they all have a common bond."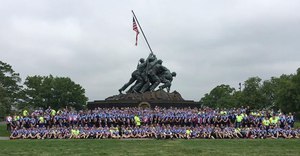 And Frye said there are numerous ways for communities and the public to get involved.
"Anyone can go to the departments along the way and be part of the arrival in the communities, or work water stations," Frye said. "People can contribute donations to support our five causes. At the end of the day, it is all about making sure we 'Honor the Fallen, Remember the Survivors.' "
Barnett said LEU has lived up to its mission.
"I feel like I've gained a family of 300-plus on Facebook," Barnett said. "I love keeping up with them and their families. People check on us and the support has been unbelievable. LEU has kept in touch. Sam always immediately responds if I have questions or need anything."
For more information, to donate, or to become a member, visit www.LEUnited.org.
---
About the author
Susan Sagarra is a writer and author based in St. Louis, Missouri.