Mother's plea for prison escapee to surrender broadcasted by helicopter, ignored
Convicted murderer Danelo Cavalcante remains at large; he is believed to be hiding in a Pennsylvania neighborhood
---
By Michael P. Rellahan
Daily Local News, West Chester
PENNSBURY, Penn. — Authorities involved in the effort to capture escaped murdered Danelo Cavalcante said Monday there had been additional sightings of him over the weekend, including one by a state trooper, but the convict was still at large as of 1 p.m.
"We are confident that if he is in the area, we will find him," said Lt. Colonel George Bivens told the news media gathered at a press conference at the Chester County Government Services Center. "And there is every reason to believe that he remains in the area."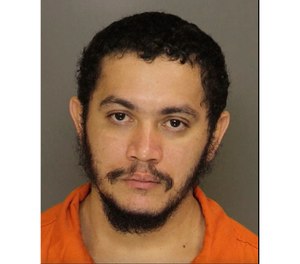 Speaking to Cavalcante's physical condition after having been at large for the past four days, Bivens said the escapee was facing real difficulties that would make him, ultimately, easier to track down and capture.
"He is stressed right now," the veteran trooper told the reporters who had gathered for the conference. "He's going to need clothes, and he's going to need food. I intend to stress him, so he will begin making mistakes. He will show himself, and we will contain him and we will capture him."
Bivens, who said at the beginning of the press conference that the state police had taken the lead role in the tracking operation to find and arrest Cavalcante at the request of Chester County District Attorney Deb Ryan, has experience in tracking criminals who are at large.
Bivens became a familiar face on television newscasts in 2014 as he conducted briefings during the 48-day manhunt for ambush suspect Eric Frein, who shot and killed one trooper and wounded another in northeastern Pennsylvania. Frein eventually was convicted of the murder and sentenced to death by a jury chosen from Chester County.
He said that there had been four sightings of Cavalcante since his escape from the prison on Thursday morning, the latest being on Sunday afternoon. In that instance, a state trooper spotted a figure matching his description across an open area, shouted for him to stop, but lost track of him from a distance as he fled.
The area where he was last seen is within a quadrant that is quite close to the Chester County Prison, meaning that Cavalcante had not been able to get very far from the area after fleeing around 9 a.m., even though he had a head start before he was noticed missing Thursday. Bivens confirmed that police had narrowed the area of their search as of Monday morning, concentrating their efforts on the rural village of Parkersville in Pennsbury.
"It looks like we're squeezing him," said one officer stationed at a roadblock around 8 a.m., although the manhunt continued with no timeline for its conclusion. Traffic was restricted on Route 926, or Street Road, from Parkersville Road to the east and Conservatory Road to the west, and along Creek Road abutting Longwood Gardens. Some of the roadblocks were manned by state police or Chester County Sheriff's vehicles, while others were unmanned.
A social media post showed what appeared to be the flight pattern of a helicopter from the state police at Reading pictured circling over the area around 5:45 a.m. before it returned to refuel at 6 a.m. Others said they could hear an airplane circling.
Parkersville is an area that features many places where a person could hide, although there is no telling for how long or what other resources — such as water or food — it would provide. There are deep woods, secluded glens and valleys, rolling hills and set-back homes — some centuries old, some newly developed — with outbuildings and unused, abandoned structures.
It is part of the world of the Wyeth art family, reality television star "Bam" Margera, the gardens of Pierre DuPont, and of high-end senior living facilities at Kendal Crosslands. Longwood Gardens, the popular tourist attraction located nearby, was closed on Saturday and Sunday but decided to reopen its gates on Monday.
It is also only a mile or two from the prison itself, where Cavalcante had been incarcerated since his arrest for the stabbing death of his former girlfriend in front of her two children in 2021. The prison — a 1,110-bed facility that has stood on Wawaset Road for decades — is also where he was awaiting transfer to a state prison to begin serving his life-without-parole sentence when he escaped around 8 a.m. Thursday.
"As we've indicated, this is a person who has evaded law enforcement for years for a homicide in Brazil," Chester County District Attorney Deborah Ryan said Saturday. "He's escaped from a prison. He escaped the first time when he killed (his girlfriend) in Schuylkill Township in 2021. So we're asking people to just be mindful that he is dangerous and anything's possible."
"Earlier, authorities had released two blurry images of a man caught on home surveillance cameras from the Parkersville area.
In the first, the person authorities said was Cavalcante was observed at approximately 12:30 a.m. Saturday in the 1800 block of Lenape Road, approximately 1 1/2 miles from the prison.
He was wearing pants, a light-colored T-shirt, and white sneakers, the same clothing he was last seen in after he fled from the prison early Thursday morning. He has long, black curly hair and was wearing a backpack, although it was unclear where he may have acquired the backpack.
Police also received a report of an attempted burglary at 11:30 p.m. in the 1000 block of Ballintree Lane in Pocopson.
According to one nearby resident, who asked to remain anonymous, "Our neighborhood had heavy police presence checking each car going in and out of the neighborhood. They left yesterday.
"Today our neighborhood chat tells us the police believe he was in the Waterglen development near the upper pond," the Pocopson residents said. "Last night there was a heavy helicopter presence with a voice shouting in Portuguese to give up and surrender. To the surprise of no one, he did not."
Bivens said the voice heard on the recorded messages was that of Cavalcante's mother, who was urging him to surrender peacefully. The recording is being broadcast from helicopters and cars throughout the area.
The residents said the focus now turns to the schools. "We cannot believe the school would allow kids to gather at bus stops and send school buses through these neighborhoods. We all anticipate it will be a 'prison break day' with at-home instruction," they said.
In talking informally with people in the know the residents suggested that Cavalcante had been able to break into an empty house and was getting food and seclusion there. "Maybe someone was away for Labor Day. The alert now is to be cautious entering your house if you have been away," they said.
In a letter to the community Monday, Unionville-Chadds Ford Superintendent John Sanville said that no decision had yet been made as to whether to reopen schools after the holiday or wait until Cavalcante is captured. He said he would discuss the matter with police Monday afternoon before a decision is made.
But the mood of some of those who live in the area was becoming impatient, according to another resident out for a morning walk Sunday.
"It's getting to be a bit much," said the resident, who did not give their name, but complained about having to watch their family's every move. "You would have thought they would have had him by now. It's terrible that this happened."
In an eerie coincidence, the Pocopson area is not far from the area where the last high-profile prison escapee was captured after a weeks-long manhunt across the county.
In August 1999, infamous murderer Norman Johnston of the storied Johnston Brothers Gang was taken into custody after he was spotted in the backyard of a home in Pennsbury. He had escaped the maximum security state prison in central Pennsylvania. Johnston, however, made the distance of more than 150 miles to bring him back to his home county, while Cavalcante — the Brazilian who is in the country illegally — may have only gotten two miles from his prison cell.
Cavalcante was convicted on Aug. 16, of first-degree murder for fatally stabbing his 33-year-old former girlfriend, Deborah Brandao, in front of her two children and was sentenced to life in prison without parole on Aug. 22. He is also reportedly wanted in his native Brazil for the murder a man who owed him money in 2017.
He was reported missing at about 8:50 a.m. Thursday, and was last seen on Wawaset Road not far from the 1,100-inmate prison around 9:40 a.m. There is a $10,000 reward for anyone with information that leads to his capture.
Bivens said that he understood the frustration that residents of the Pocopson area were feeling.
"I know it's stressful for the community," he said, as Ryan stood at his side. "But I want to assure you that we are working diligently to bring this to a conclusion as quickly and as safely as possible."
Ryan said her office was still conducting its investigation into how Cavalcante was able to escape, but would not provide any details. Now, she said, her primary focus is on getting the man she had prosecuted for a "cold, calculating and heinous" murder captured and brought back to justice.
Anyone with any information on his whereabouts is asked to call 9-1-1 immediately.
___
(c)2023 Daily Local News, West Chester, Pa.
Visit Daily Local News, West Chester, Pa. at https://www.dailylocal.com/
Distributed by Tribune Content Agency, LLC.
McClatchy-Tribune News Service