Rapid Response: Officer safety is paramount during active manhunt
Because of the evolving dynamics of the incident in Florida, officers must remember to assess the scene upon arrival, request backup and maintain a heightened level of situational awareness
---
On a day in which we unite to celebrate Law Enforcement Appreciation Day, tragedy struck two Florida law enforcement agencies. Master Sgt. Debra Clayton of the Orlando Police Department was fatally shot  when she approached a wanted murder suspect  early Monday morning, and Orange County Sheriff's Office Deputy First Class Norman Lewis was killed in a motorcycle crash while in search of the suspect who murdered Clayton. The authorities are advising the suspect to turn himself in peacefully to prevent further tragedies.
Every day law enforcement officers put their lives at risk to serve and protect our communities. Every day officers approach individuals not knowing their identity – a risk in and of itself. But when officers are made aware that an individual is dangerous, the stakes are even higher and the risk of assault is greatly increased. A wanted subject poses a high risk to every responding officer. There's an uncertainty about what the subject's actions might be, so it's imperative that officers always proceeds with extreme caution.
Officer safety is paramount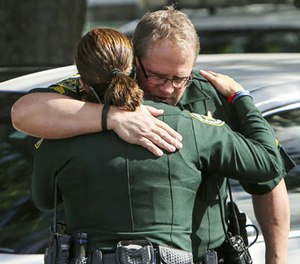 The suspect in the incident in Florida is considered armed and dangerous. Because of the evolving dynamics of this particular incident, officers must remember to assess the scene upon arrival, request backup and maintain a heightened level of situational awareness.
All officers must stay up to date and informed about this evolving threat. Communications must continue between officers and across jurisdictions during this manhunt.
Due to the unpredictable behavior of this suspect, it's imperative that all responding officers have the necessary equipment and body armor prior to approaching. Should an officer get a call for service that the suspect has been located, it's imperative that the officer drive safely to the scene.
Active manhunt
The suspect is still at large and is considered armed and extremely dangerous. An active manhunt poses several challenges and risks to law enforcement officers and innocents. During this active investigation, it is critical for Florida law enforcement agencies to actively share information and intelligence within departments and across jurisdictions in order to accurately track and capture the suspect. All officers should be briefed about this incident during roll call. Citizens should be informed not to approach the suspect and to call 911 should they see him.
The loss of two great law enforcement officers is devastating. The communities, friends, colleagues and departments the officers' served are not only suffering, but they are on edge to find the at-large suspect. This high-risk manhunt poses a dangerous threat to responding officers and the communities they're protecting.  Officers and agencies must work together, communicate and continue to track the suspect until he is captured.