Searchers edge north on Day 21 of hunt for NY prison escapees
The search had been concentrating on a heavily wooded area 20 miles west of Clinton Correctional Facility
---
John Kekis
Associated Press
MALONE, N.Y. — A search for two convicted murderers who escaped from a maximum-security prison three weeks ago edged slightly north Friday to a town near the Canadian border.
The search had been concentrating on a heavily wooded area 20 miles west of Clinton Correctional Facility for almost a week since authorities discovered DNA evidence indicating inmates Richard Matt and David Sweat had been inside an area hunting camp.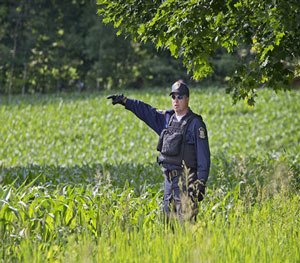 The focus of the search on Day 21 on Friday appeared to be around the town of Malone. A small contingent of New York state troopers is stationed along power lines in the area, and motorists have to pass through a checkpoint.
"I think these guys are going to find them," said Sonny Morales, as he sat on an easy chair in front of a house near the border. "I know it's taken a long time, but there's a lot of freaking land to cover. The border's pretty tight."
Sweat and Matt broke out of the prison in Dannemora on June 6. Authorities say they cut through the steel wall at the back of their cells, crawled down a catwalk, broke through a brick wall, cut their way into and out of a steam pipe and then emerged from a manhole outside the prison.
Sweat, 35, was serving a life sentence without parole in the killing of a sheriff's deputy. Matt, who turned 49 on Thursday, was doing 25 years to life in the kidnapping, torture and hacksaw dismemberment of his former boss.
Meanwhile, New York state prison officials said Friday that a corrections officer facing charges related to the escape has been suspended without pay.
Gene Palmer's suspension from his $72,644-a-year job comes after he was arrested Wednesday night on charges of promoting prison contraband, tampering with evidence and official misconduct.
Palmer has told investigators he provided paint, tools and prison catwalk access to Matt and Sweat. But the veteran guard says he had no idea they were planning to escape.
He is free on $25,000 bail.
Another prison worker, tailor shop instructor, Joyce Mitchell is charged with helping them escape. Authorities say Mitchell smuggled hacksaw blades, a screwdriver and other tools into the prison by hiding them in frozen meat that Palmer delivered to the inmates.
Copyright 2015 The Associated Press