2 dead, 12 injured in shooting at NJ house party
Police said no arrests were immediately made
---
By Wes Parnell
New York Daily News
FAIRFIELD TOWNSHIP, N.J. — A mass shooting that erupted at at a New Jersey house party has left two people dead and 12 others injured, some fighting for their lives, officials said Sunday.
Shots rang out at a 1990s-themed birthday party on E. Commerce St. in Fairfield Township about 50 miles south of Philadelphia around 11:55 p.m. Saturday, New Jersey State Police said.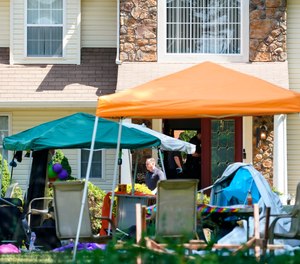 Kevin Elliot, 30, was one of the victims fatally shot in the fray, family members told the New York Daily News.
"It's devastating to hear something like that. I would have never expected for someone like him to get shot," said Eric Elliot 38, his cousin. "But what can you expect when you have a party with hundreds of people?"
The party drew hundreds of revelers. The other fatally shot victim was a 25-year-old woman, officials said. One of the surviving victims is in critical condition.
No arrests have been made.
"People from the ages of 15 and up (were there.) A handful of idiots started to pull out guns and started shooting," said John Fuqua, who has relatives who attended the party. "Nobody at that party wanted to get shot. They were celebrating life."
"We hold those who have died, and their families, in our prayers today," New Jersey Gov. Phil Murphy said in a statement. "We also pray for the recoveries of those injured." He added: "Let there be no mistake: This despicable and cowardly act of gun violence only steels our commitment to ensuring New Jersey leads the nation in passing and enforcing strong and commonsense gun safety laws."
Aerial views of the property show a mansion with tents knocked over and bottles scattered about after partygoers ran for their lives.
An uncle of one of the victims told Philadelphia's 6ABC Action News he was "heartbroken" and that his slain niece was a "good girl."
"It wasn't a random act of violence," said Fuqua. "We had the ER shut down because they had too many bodies. It was a mass shooting, something out of a war movie."
©2021 New York Daily News. Visit nydailynews.com. Distributed by Tribune Content Agency, LLC.
McClatchy-Tribune News Service