Calif. gunman's mom says he told her 'it's all over now'
The gunman was out on bail, and others had complained about him firing hundreds of rounds from his house
---
By Jocelyn Gecker
Associated Press
RANCHO TEHAMA RESERVE, Calif. — The mother of the gunman who killed five people and wounded 10 said he called her the day before the rampage in Northern California to say he was weary of constant feuding with his neighbors and felt like he "was on a cliff and there's nowhere to go."
"Mom it's all over now," Kevin Neal's weeping mother told The Associated Press on Tuesday, hours after the rampage. "I have done everything I could do and I am fighting against everyone who lives in this area."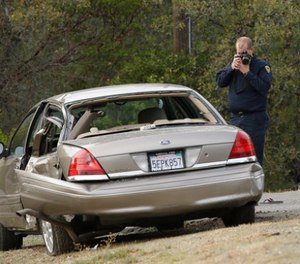 Neal's mother spoke by phone from Raleigh, North Carolina, where she lives and where Neal grew up before moving to California. She said he was working as a pot farmer and had recently married his longtime girlfriend, who was the first person he killed, police said.
Neal, 44, was shot to death by police as he tried to flee after shooting his way through Rancho Tehama, about 130 miles north of Sacramento.
The mother asked that only her first name, Anne, be used because she feared for her safety due to her son's feuding with neighbors he claimed were involved with gangs. She was unaware of her son's role in the rampage until contacted by AP.
In her last few talks with her son, Neal's mother said he sounded desperate and despairing over his relationship with his neighbors, who he said were cooking meth and creating fumes that were harming his nine dogs.
"All of a sudden, now I'm on a cliff and there's nowhere to go," she said her son told him Monday. "No matter where I go for help here I get nobody who will help me. All they are doing is trying to execute me here."
Police believe Neal killed his wife on Monday and Tuesday morning he shot and killed two neighbors. He stole one of the neighbor's truck and sought seemingly random victims elsewhere in town, including an elementary school where children were locked in their classrooms. None was killed, though one boy was seriously wounded.
Last January Neal was charged with stabbing one of his neighbors, and his mother said she posted the $160,000 bail for him and had spent over $10,000 on lawyer's fees.
Neal's mother said her son told her the neighbor was only slightly cut after Neal grabbed a steak knife she was using to threaten him.
The head of the area's homeowners association said neighbors had been complaining about Neal firing guns excessively on the property, which sits at the end of a dirt road.
Neal's sister, Sheridan Orr, said she had not talked to her brother in months, but that he had struggled with mental illness and at times had a violent temper. She said she believed he was addicted to drugs.
"This is a person who has no business with firearms whatsoever," Orr said. "Our deep, deep sympathy for the victims and it sounds trite but our hearts are breaking for them."
Orr added, "If we can do any good to make people realize there must be some gates on people like this from getting guns."