Five years after Sandy Hook, more elementary schools are adding security
Districts have moved to bolster security, especially at elementary schools, which usually haven't had police assigned to them like many high schools and middle schools
---
By Michael Melia
Associated Press
NEW CANAAN, Conn. — The setting could not be more different, but David Wannagot says he applies some of the same skills from his 30-year police career to his new role as a school sentry.
As he greeted children getting off the bus at West Elementary School one recent morning, he scanned their faces, ready to guide any who seem upset directly to the vice principal. And from his station at the entrance he sizes up all visitors asking to enter the building.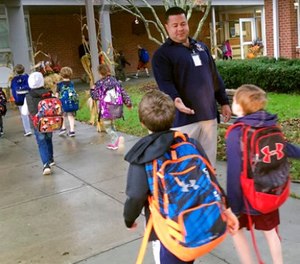 "We would do anything we can to protect a child or a teacher," said Wannagot, a former detective in Norwalk. "We're not armed, but we do have experience dealing with violent people in the past, reading people's mannerisms, that kind of thing."
In the aftermath of the Sandy Hook Elementary School shooting five years ago, districts have moved to bolster security, especially at elementary schools, which traditionally have not had police assigned to them like many high schools and middle schools. Many have hired retired officers, firefighters and other responsible adults — an approach that's less expensive and potentially less intrusive than assigning sworn police, but one that also has raised questions about the consistency of training and standards.
Nationally, there is a patchwork of state laws addressing requirements for school safety officers, and many leave it entirely up to local school boards. Some states, including Connecticut, have weighed legislation to impose standards for non-police security inside schools.
In Danbury, Connecticut, which began posting security guards inside elementary schools after the Sandy Hook shooting, Mayor Mark Boughton pushed for state legislation that would have established standards and training for non-police security personnel. The bill ultimately did not pass. In the event of a crisis involving a response by multiple agencies, he said, it would be helpful to have common agreement on the role of private guards.
"I still think it's a good idea," Boughton said.
Even before the shooting, security officers who were once almost exclusively at high schools before becoming common at middle schools also had been turning up increasingly at elementary schools, according to Ronald Stephens, director of the National School Safety Center.
The "responsible adult" model has been in use for years, he said, but anecdotal evidence suggests it has been growing in popularity. According to the National Center for Education Statistics, the percentage of primary U.S. public schools with one or more security staffer present at least once a week rose slightly from 26.2 percent in the 2005-2006 school year to 28.6 percent in 2013-2014.
In New Canaan, the school district contracted with a private company to set up the campus monitors soon after the Newtown school shooting on Dec. 14, 2012.
"Our lenses changed a bit on that day," Superintendent Bryan Luizzi said.
The plan for the monitors initially ran into skepticism from some, including Steve Karl, a town councilor who questioned the cost and the intrusiveness, but he has come around to support the program. The monitors now report to the Board of Education, which also provides training. The monitors earn an average salary of $30,700, compared with $90,472 for police assigned as school resource officers.
"The first choice would be to have a U.S. Marine at the door. 'This is the guy you're going to have to check through to get access to our kids.' But it's just not realistic,'" Karl said. "Where do you go from there? You want somebody who has a very keen sense of knowing when something doesn't quite feel right."
The rise in the number of districts turning to private security has led to calls elsewhere to impose standards for school guards, particularly in cases where school boards allow for them to be armed.
In New Jersey, a law passed last year establishes a special class of law enforcement officers providing school security. The measure was sought by the New Jersey State Association of Chiefs of Police to encourage minimum training standards, according to the association's president, North Plainfield Police Chief William Parenti. Chiefs, he said, noticed fewer police officers were being assigned to schools because of budget cuts and districts were replacing them with private security, including armed guards.
"You could get a school superintendent's brother who didn't have a job and give them a permit to carry," he said.
In Arkansas, a law passed in 2015 sets minimum training requirements on topics including active-shooter training and limitations on the authority of school security officers, according to the National Conference of State Legislatures.
Michele Gay, whose own daughter was killed at Sandy Hook and who now works with school districts as a security advocate, said the ideal scenario would be to have an officer in every school, playing an all-purpose role similar to a school nurse. Where that's not possible, she said the guards should at least be former police.
"We want everybody to be on the same page and have the same level of experience," she said.
At New Canaan's West Elementary, the guard greets students at the bus before making rounds to make sure doors and windows are locked. He monitors video feeds to watch people approaching the school and checks visitors' identification. On occasion, the principal asks him to keep an eye out for parents who may be upset about something. A New Canaan police officer also comes by the school periodically and talks with student as part of a new program to build relationships with school staff.
"We try to be as friendly as possible for the kids to be comfortable around us," said Hector Garcia, a monitor assigned to West Elementary. The former prison guard, known as "Mr. Hector" to students, keeps a collection of matchbox cars at this station to help put children at ease.
Annie Drapkin, a West Elementary parent, said the guards helped to put everyone at ease after the Newtown shooting and, over time, they have become part of the school community.
"They're lovely people, and underneath it, they are strong," she said.