2 dead, 20 injured in Harlem building explosion
A gas leak triggered a thunderous explosion that flattened two East Harlem apartment buildings Wednesday
---
By Verena Dobnik
Associated Press
NEW YORK — A gas leak triggered a thunderous explosion that flattened two East Harlem apartment buildings Wednesday, killing at least two people, injuring more than 20 and leaving more than a dozen others missing. One tenant said residents had complained repeatedly in recent weeks about "unbearable" gas smells.
The fiery blast erupted about 9:30 a.m., around 15 minutes after a neighboring resident reported smelling gas, authorities said. Con Edison said it immediately sent utility workers to check out the report, but they didn't arrive until it was too late.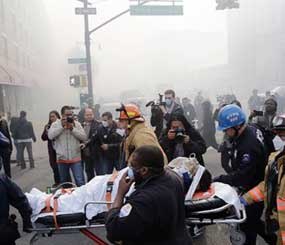 The explosion shattered windows a block away, hurled debris onto elevated commuter railroad tracks close by, cast a plume of smoke over the skyline, and sent people running into the streets.
The two five-story buildings on Park Avenue at 116th Street, not far from the northeastern corner of Central Park, were reduced to a burning heap of broken bricks, wood and metal.
"It felt like an earthquake had rattled my whole building," said Waldemar Infante, a porter who was working in a basement nearby. "There were glass shards everywhere on the ground, and all the stores had their windows blown out."
Police said two women believed to be in their 40s were killed. One of those hurt was reported in critical condition with head injuries. At least three of the injured were children.
Fire officials said more than a dozen people were unaccounted for, but cautioned that some may not have been in the building. Several hours after the blast, firefighters were still dousing the flames with water, and rescue workers had yet to venture into the debris to search for victims.
A tenant in one of the destroyed buildings, Ruben Borrero, said that residents had complained to the landlord about the smell of gas as recently as Tuesday, a day before the disaster.
A few weeks ago, Borrero said, city fire officials were called about the odor, which he said was so bad that a tenant on the top floor broke open the door to the roof for ventilation.
"It was unbearable," said Borrero, who lived in a second-floor apartment with his mother and sister, all of whom were away at the time of the explosion. "You walk in the front door and you want to turn around and walk directly out."
The Fire Department said it was checking its records for any gas complaints at the building. As for Con Ed, spokesman Bob McGee said a preliminary review by the utility found "nothing that indicates there was any call in the immediate past from anyone on that block" before Wednesday.
The National Transportation Safety Board said it is sending a team to investigate. The agency investigates pipeline accidents in addition to transportation disasters.
Just before the explosion, a resident from a building next to the two that were destroyed reported smelling gas inside his apartment and thought the odor might be coming from outside, McGee said. Con Ed dispatched two crews two minutes after the 9:15 a.m. call came in, McGee said.
McGee said it remains to be seen whether the leak was in a Con Ed pipeline or in customer-installed plumbing inside a building.
The tragedy brought the neighborhood to a standstill as police set up barricades to keep residents away. Thick, acrid smoke made people's eyes water. Some wore surgical masks, while others held their hands or scarves over their faces.
Sidewalks were littered with broken glass. Witnesses said the blast was so powerful it knocked groceries off store shelves.
One of the side-by-side buildings had a piano store on the first floor, the other a storefront church. Building Department records don't show any work in progress at either address, but the building with the church had obtained permits to install new gas pipes in June.
City records show that the building Barerro lived in was owned by Kaoru Muramatsu, proprietor of the piano business, Absolute Piano. A number listed for Muramatsu rang unanswered.
The Metro-North commuter railroad, which serves 280,000 riders a day in New York and Connecticut, suspended all train service to and from Grand Central while the debris was removed from its tracks. Some of the tracks were later reopened, and limited service resumed in the afternoon.
A resident of the one of the buildings, Eusebio Perez, heard news of the explosion and hurried back from his job as a piano technician.
"There's nothing left," he said. "Just a bunch of bricks and wood." He added: "I only have what I'm wearing. I have to find a place to stay for tonight and organize what's going to be my next steps."
A Red Cross center was set up at a public school, where about 50 people had gathered, including some who were searching for loved ones.
The explosion destroyed everything Borrero's family owned, including the ashes of his father, who passed away a few years ago. Borrero said he assumes his 5-year-old terrier, Nina, was killed.
But "I have my mother and sister," he said. "I'm happy for that."
Copyright 2014 The Associated Press