Nev. county officials concerned over potential Area 51 gathering
An untold, large number of people may be coming to Lincoln County, Nev. in late September, with some perhaps unhinged enough to try and take on the military
---
This article originally appeared on NACo.com, and was reposted here with permission.
By Charlie Ban
National Association of Counties
While the Burning Man routine is down pat, across the state, county and federal officials are dealing with a far more uncertain gathering.
It's part ironic spectacle and part public safety hazard surrounding one of the region's enduring myths, steeped in the state's reputation and character. An untold, large number of people may be coming to Lincoln County, Nev. in late September, with some perhaps unhinged enough to try and take on the military.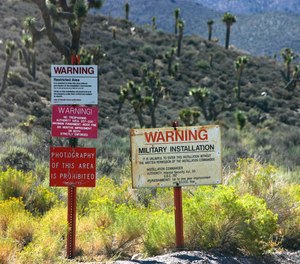 A Facebook post, later acknowledged to be a joke, proposed storming the Nevada Test and Training Range, known colloquially as Area 51. Home to many experimental programs including the U-2 spy plane, it came to prominence in the 1996 blockbuster Independence Day, which reinforced conspiracy theories about the U.S. Air Force using the base to conduct research on captured extraterrestrials. The Facebook post, about an event titled "Storm Area 51: They can't stop us all" said "We can move faster than their bullets. Let's see them aliens."
Whatever the intention, the gathering may be happening in some form, and Lincoln County Commissioner Varlin Higbee doesn't mince words when he talks about the military installation in his county.
"They are authorized to use lethal force, and if local law enforcement can't handle it to keep them off their perimeters, that would be an awful black eye for the military and Lincoln County," he said. "It would be an ugly scenario."
The event was originally scheduled for 3 a.m. Sept. 20 in Nye County's Armagosa Valley but was then rescheduled to the Lincoln County town of Rachel, the permanent settlement closest to the base.
Higbee and his colleagues met with base commanders, who expressed concern about the ways this could go wrong.
"They got concerned when the Facebook event launched, getting 2 million (RSVPs) and 1.5 million people who were interested," Higbee said. "They knew not everyone was going to show up, but those numbers are concerning."
Clark County's monitoring of airline ticket purchases, hotel reservations and car rental reservations indicated that people were indeed making commitments for the event.
"Event planning experts told us to expect a minimum of 10 percent of the people who RSVP for an online event," Higbee said. "Well, that's 300,000, so we'll have to plan for 30,000."
Higbee, along with base officials, have been buoyed by efforts by the joker to make the event a legitimate festival. He has hired a promoter who has done due diligence with county officials to plan an event, with alien-themed bands, dubbed Alienstock.
"This guy seems to know what he is talking about," Higbee said. "A lot of promoters can turn out to be frauds, but he had a good knowledge of the logistics that go into something like this. He knew what kind of permits they would need and gave us some helpful feedback, too.
"He's trying to keep people contained (on private land) and that will work well for everyone...keep them where they have their own security, their own medical, their own restrooms."
In short, he displayed the acumen that was lacking in the organization of the infamous Fyre Festival in the Bahamas, where festival-goers arrived to find few accommodations and little food.
Higbee is still concerned about the community's capacity to play host to 30,000 people. The town of Rachel is home mainly to ranching families, but its proximity to Area 51 has supported some specialty tourism with an alien theme.
"We have two gas stations, and if you have that many people trying to get gas, that's going to be a problem," he said. "They don't even have a grocery store in Rachel."
The county sheriff's office doles out trespassing citations in excess of $700, but it's not exactly a cash cow for the department, which provides services outside of the base.
"Most people are pretty good, they'll drive up to the boundary line, take a picture of the signs and then go away," Higbee said. "Once in a while, you get some idiots who try to cross over and make it to the gate, they grab them, detain them and the sheriff's department picks them up. It's hard to do that with 30,000 people."
The gates of the facility lie a mile from the outer boundary, which is too large to fence, but the surveillance measures make that moot.
"They know the moment you drive over the summit," of the hills surrounding the base, Higbee said. "They have cameras, helicopters at the ready. It's extremely well protected."
But the base and sheriff's office are intrinsically linked. The last four numbers of the sheriff's office phone line? "5151"