Man charged with paralyzing Mo. cop found mentally unfit for trial
Officer Michael Flamion was paralyzed from the neck down when a man he stopped for speeding shot him from behind in July 2016
---
Joel Currier
St. Louis Post-Dispatch
CLAYTON — A St. Louis man charged with shooting and paralyzing a Ballwin police officer in 2016 has been found mentally unfit to face trial, according to recent court filings in the case.
Antonio R. Taylor, 33, is objecting to an Aug. 8 finding by the Department of Mental Health that he is mentally incompetent to stand trial. Taylor filed a motion Tuesday via his public defender seeking a hearing. That hearing is set for Friday in St. Louis County Circuit Court.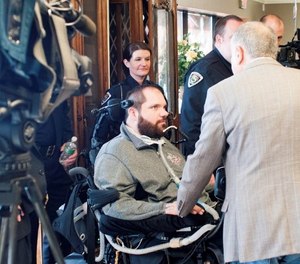 Taylor underwent a mental examination earlier this year to determine if he suffers from mental illness and whether he understands court proceedings. His trial had been set for April but that was delayed when Circuit Judge Nellie Ribaudo ordered a mental evaluation for Taylor.
Taylor, of the 1200 block of Tower Grove Avenue, is accused of using a .22-caliber pistol to shoot Officer Michael Flamion in the neck July 8, 2016, during a traffic stop on New Ballwin Road. Since Taylor's arrest, he has been held at the St. Louis County Jail on charges of assaulting a law enforcement officer, unlawful gun possession, resisting arrest and armed criminal action.
Flamion, 34, was paralyzed from the neck down when a man he stopped for speeding shot him from behind in July 2016, police have said.
Taylor's public defender, Beverly Hauber, this week sought to have all court filings related to Taylor's mental exam or notice of Friday's hearing sealed from the public.
Assistant Prosecutor Jason Denney filed a motion Wednesday seeking a second mental health exam for Taylor within 60 days.
Last month, Taylor wrote several letters to the judge seeking the dismissal of his charges and the return of his belongings, including clothing and personal hygiene items. He also sought to fire his public defender and represent himself in court.
In several of his filings, Taylor denies shooting Flamion and calls Flamion "the suspect" who "interfered with my life July 8, 2016."
Taylor's criminal history in Missouri includes 2011 convictions of unlawful possession of a firearm and resisting arrest. He served 30 months in federal prison for a conviction of being a felon in possession of a gun. Court records also list convictions in California and Oklahoma.
Flamion has undergone extensive rehabilitation since the shooting.
———
©2018 the St. Louis Post-Dispatch
McClatchy-Tribune News Service