'RIP our hero.' Hundreds show for driving vigil honoring slain Kan. officer
The "Salute to Blue" driving vigil honored Officer Mike Mosher and other officers who have died in the line of duty
---
Luke Nozicka
Kansas City Star
OVERLAND PARK, Kan. — Hundreds of people gathered Sunday night in Overland Park to watch a driving procession in honor of Officer Mike Mosher, who was killed in a shootout with a suspect a week earlier.
Dozens of police vehicles and motorcycles, their red and blue lights flashing, passed residents who held American flags and banners with blue stripes through the middle. A young girl held a sign that read "RIP our hero."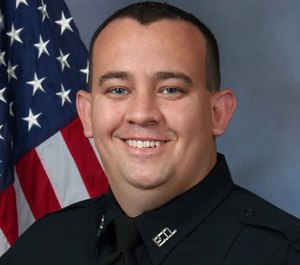 Marking the beginning of National Police Week in Overland Park, the "Salute to Blue" driving vigil honored Mosher and other officers who have died in the line of duty.
The procession, which included law enforcement vehicles from numerous agencies across the Kansas City region, such as the Johnson County Sheriff's Office, began at 95th Street and Switzer Road and ended at the Deanna Rose Children's Farmstead at 135th Street and Switzer Road. It passed significant locations, including the site of Mosher's death.
The driving vigil was the first of three days of events to memorialize Mosher. A drive-by visitation will be Tuesday and a private funeral and public funeral procession will be Wednesday.
A decorated, 14 1/2-year veteran of the force, Mosher was on his way to work shortly before 6 p.m. May 3 when he came across a possible hit-and-run. Mosher radioed for assistance, saying he was at West 123rd Street and Antioch Road.
Shortly after, Mosher radioed back to say the driver got out of his car and confronted him. Moments later, gunshots were fired. Mosher, 37, and the suspect, Phillip Carney, 38, both died in the shootout.
Mosher was the first officer killed in Overland Park since Officer Deanna Rose was slain in January 1985. Rose died two days after the driver of a vehicle she pulled over on suspicion of intoxication ran her over. Mosher was shot about three miles northeast from Children's Farmstead named after Rose.
McClatchy-Tribune News Service