How cops are teaching driving safety to young people
The 911 Driving School is a unique brand that provides new driver trainer by law enforcement professionals
---
According to the Centers for Disease Control and Prevention, 16 to 19-year-olds are at a higher risk of a motor vehicle crash than any other age group. 
The challenge, however, can be finding qualified instructors who can impart thorough knowledge about road safety as well as provide finely-tuned motoring skills to student drivers. 
Cops know the inherent risks and dangers of the road, which is why many have decided to be proactive in helping decrease that risk by becoming instructors with the 911 Driving School.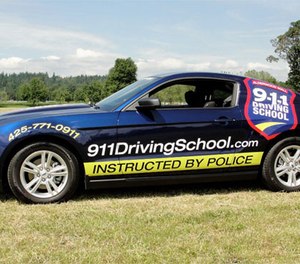 History and goals
The school was founded 10 years ago by a cop and uses police and fire personnel as instructors. It currently operates in six states. The law enforcement instructors include school resource officers, detectives and SWAT officers. Some are still active in law enforcement and others are retired.
The law enforcement instructors, whether active or retired, all share the goal of wanting to instill safe driving methods and practical knowledge that will stick in the minds the young people they're teaching to drive. The cops who teach the course use a proactive approach with high standards. What the cops get out of it is both personal and professional satisfaction. 
"This is their life, their job. They see the results of bad driving. They like teaching people how to drive. They like making a difference," said Joe Giamonna, CEO of the Driver Training Group.
Jeff Westover, now retired, served as a police officer for 18 years in Pierce County, Washington. During his tenure in the police department, he worked traffic, motors, collision, conducted investigations and served on the SWAT team. What attracted him to teaching was the fact that he did not have to put on a uniform, and he could teach whenever he chose to. "The cool thing is you get to pick when you want to work," he said. 
The students obtain a keen awareness of driving reality and are trained so they can avoid becoming victims of crashes and fatalities. The instructors share stories with the students about what they have seen on the road, the impact of collisions and the reality of investigations. Their number one goal is to produce safe and responsible drivers who are capable of driving safely for a life time. 
"Instructors have seen the worst of what happens. Retired cops like to do it. They know it does good. They don't do it for the money. They love to teach and realize that what they are doing is giving back to society," Westover said.
He added that the students also enjoy learning from the instructors. His three children all took the course. 
Motivation and inspiration
Westover decided to purchase a 911 franchise with his father who is a retired state trooper. 
"It is rewarding. You are willing to give your life for another person as a cop. In this situation, you get to save lives and don't have to risk yours doing it," he said. 
As a result of their instruction, he sees that they're making a difference. 
"We're beating those national averages. We have lower fatality rates, lower ticket counts than other driving schools here," Westover said. 
Giamonna added that it's also a way to rebuild trust in law enforcement. 
"(Instructors) are out in the community making a positive difference. They are providing a service that truly will save someone's life," he said.