Off-duty Ga. deputy fatally shot in domestic dispute
The shooting involved a domestic situation between Cpl. Gregory Cooke, a couple and their two children. Cooke was not related to the suspects but was acquainted with them
---
By Nefeteria Brewster
The Augusta Chronicle
AUGUSTA, Ga. — An off-duty Richmond County Sheriff's deputy was fatally shot Thursday afternoon in south Augusta, according to the sheriff's office.
The officer, Cpl. Gregory Cooke, 43, was a road patrol deputy hired in December 2014. He was taken to AU Medical Center where he was pronounced dead at 4:52 p.m, Coroner Mark Bowen said in a news release.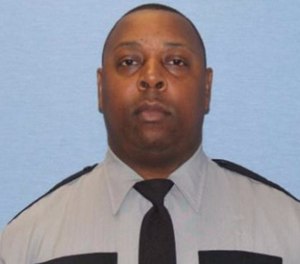 Bowen said Cooke was shot at least one time in what authorities are calling a domestic dispute. The shooting occurred in the 2400 block of Lennox Road off Windsor Spring Road.
Paul Jones, who lives four doors from the residence where the officer was shot, told an Augusta Chronicle reporter that he heard about five or six shots fired.
"We were going to Walmart up here but after the shots we just held up for awhile," he said. "I have never seen anything like that on this street."
Four people surrendered to a Burke County Sheriff's deputy who they said they knew, according to Burke County Chief Deputy Lewis Blanchard. Two of the suspects who turned themselves in were cousins, he said. All four were turned over to Richmond County, Blanchard said.
Two people, Naheem Rashad Caldwell, 17, of 3410 Aspen Court, who is out on bond after being indicted on a charge of theft by taking – accused of possessing a stolen 2004 Dodge Ram, and Donnelle Osborne,18, were arrested in connection to Cooke's death, according to Lt. Allan Rollins of the Richmond County Sheriff's Office. No charges had been filed as of late Thursday.
Earlier in the afternoon authorities from the Richmond County Sheriff's Office filled the parking lot of Skateland, located on Windsor Spring Road as helicopters flew above in search of suspects, who fled the scene.
Richmond County Sheriff's Chief Deputy Patrick Clayton said the shooting involved a domestic situation between the officer and a couple and their two children. Cooke was not related to the suspects but was acquainted with them, he said.
Caldwell's first cousin, Latisha Lewis, who came to the scene on Lennox Road later in the evening, said he had become different person.
"He wasn't raised that way, he was brought up well-mannered, but at some point he got into this world and made a horrible decision."
Trina Roverson, who lives near the home where Cooke was shot, said she saw the officer in the street near the home with wounds to his right chest or shoulder.
"We couldn't really tell because there were so many cops around him," she said.
"We usually don't have stuff like that happen on our street because it's very quiet — this never happens."
Roverson also said she is familiar with Caldwell as he would frequently walk around the neighborhood and would always say hello.
"He looked like a good kid," she said.
The suspects were transferred to the Richmond County Detention Center. The Georgia Bureau of Investigation is in charge of the investigation because it is an officer-involved shooting.
Cooke started as a jailer and worked his way to field operations, Rollins said in the statement.
"The entire Sheriff's Office mourns the loss of Deputy Cooke and offers our deepest condolences and support to his family," Rollins said in the release.
The last sheriff's deputy killed was Sgt. Greg Meagher, 57, on Feb. 5 when he was overcome by fumes boiling from liquid nitrogen at Xytex, a sperm bank on Emmett Street. The longtime Richmond County sheriff's deputy went in to save Anita Wylds, an employee who was trying to turn off the valve.
The last Richmond County officer fatally shot was Deputy J.D. Paugh on Oct. 23, 2011, by Christopher Hodges, a Tennessee National Guardsman stationed at Fort Gordon, during a shootout on Bobby Jones Expressway.
Staff writers Tom Corwin and Sandy Hodson contributed to this article.
———
©2017 The Augusta Chronicle (Augusta, Ga.)
McClatchy-Tribune News Service