Canada officer killed in shootout with suspect
Abbotsford Police Chief Bob Rich hailed Const. John Davidson as a hero after he was killed during a shootout
Duty Death: John Davidson - [Abbotsford, British Columbia]
End of Service: 11/06/2017
---
By Police1 Staff
ABBOTSFORD, B.C., Canada — A Canadian police officer was killed during a shootout with a suspect that occured at a strip mall on Monday.
The Vancouver Sun reports that Abbotsford PD Const. John Davidson was hit during a shootout at the mall's parking lot and died shortly after arriving at the hospital. Abbotsford Police Chief Bob Rich hailed the officer's actions.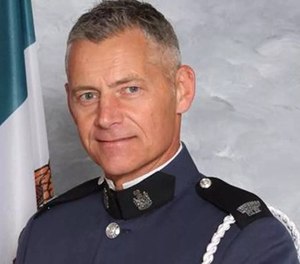 "The officer who gave his life today is a hero," Rich said. "He was protecting this community."
The shooting started when police received a call about a stolen vehicle being spotted in the mall's parking lot. The suspect, who has been identified as 65-year-old Oscar Arfmann, reportedly came into a car dealership Saturday and asked to test drive a black Ford Mustang before taking off with it.
The dealership's fleet manager said one of his employees spotted the car and attempted to block it while waiting for police to arrive when the suspect "came back with a rifle and decided he wanted the car back."
Police arrived and exchanged gunfire with the gunman when Davidson was hit. He was rushed to the hospital where he was pronounced dead. Arfmann fled in the vehicle and was pursued by police before he was eventually apprehended. 
Arfmann has been charged with first-degree murder, Global News Canada reports.