Colo. trooper fatally struck while investigating crash
Trooper Cody Donahue was out of his vehicle when he was hit by a commercial truck pulling a trailer
Duty Death: Cody Donahue - [Castle Rock, Colorado]
End of Service: 11/25/2016
---
By Ellie Mulder
The Gazette
CASTLE ROCK, Colo. — An 11-year Colorado State Patrol trooper was investigating a crash on Interstate 25 near Castle Rock Friday afternoon when he was hit and killed by a passing vehicle, officials said.
Trooper Cody Donahue was out of his vehicle when he was hit by a commercial truck pulling a trailer, said Deputy Chad Teller, a Douglas County Sheriff's Office spokesman.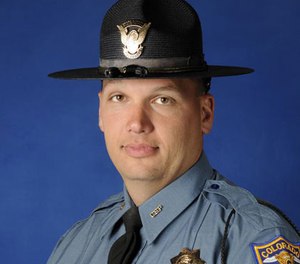 A criminal investigation is being handled by the Sheriff's Office, and the driver of the truck has been detained, Teller said.
The crash was called in just before 2 p.m., and Donahue, who was a father of two, died on the scene, said CSP spokesman Trooper Josh Lewis.
"We're obviously deeply saddened by the loss of our trooper," Lewis said, adding, "We're going to do the best we can to pull together as a family."
Northbound Interstate 25 was closed between Tomah Road and Plum Creek Parkway for hours after the wreck, prompting traffic detours and delays, but was reopened just after 8 p.m., according to the Colorado Department of Transportation.
Lewis said the agency is comforting employees and their families after what has been a rough couple of years.
Taylor Thyfault, a 21-year-old State Patrol cadet, was killed in May 2015 when he and a trooper were hit while trying to stop a fleeing car near Longmont. In November 2015, 33-year-old Trooper Jaimie Jursevics was hit and killed by a drunken driver while she was investigating a crash near Castle Rock.
©2016 The Gazette 
McClatchy-Tribune News Service