Ga. sheriff killed in car crash while responding to call
Wilcox County Sheriff Robert Rodgers is the second member of the sheriff's office to be killed in the line of duty, and the first since 1965
Duty Death: Sheriff Robert Rodgers - [Wilcox County, Georgia]
End of Service: 08/29/2023
---
By Alexis Stevens
The Atlanta Journal-Constitution

ROCHELLE, Ga. — The Wilcox County Sheriff was killed in a crash Tuesday afternoon while responding to a call, according to the county coroner.
Sheriff Robert Rodgers crashed shortly after 4 p.m., Coroner Janice Brown told The Atlanta Journal-Constitution. The crash happened on Ga. 233 north of Rochelle, about 75 miles south of Macon. Rodgers died at the scene.
"He was a good friend," Brown said. "I just talked to him yesterday."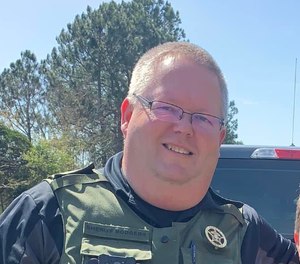 The Georgia State Patrol was investigating the crash. Brown said there was no indication the crash was weather-related.
"The vehicle traveled off the roadway where it struck a tree and came to rest on the driver's side," the State Patrol said in an email late Tuesday.
Numerous police agencies posted condolences to the sheriff's family and his agency on Facebook. The Wilcox school system also posted about Rodgers.
"Please remember the family of Sheriff Robert Rodgers and the Wilcox County Georgia Sheriff's Office in your prayers," the school system posted. "Robert was a diligent servant to our county and a huge supporter of the school system. He will be greatly missed!"
Rodgers is the second member of the Wilcox County Sheriff's Office to be killed in the line of duty, according to the Officer Down Memorial Page that tracks law enforcement deaths. A deputy sheriff was shot to death in 1965.
He is the third Georgia law enforcement member to die in the line of duty this year, according to the Officer Down page.
In January, Master Patrol Officer C.J. Williams with the Cairo Police Department died after suffering a medical emergency during a foot pursuit. In July, a sheriff's deputy in Middle Georgia died after he was shot during a traffic stop in Cordele. Deputy Tyee Browne, 26, was conducting a traffic stop on a "suspicious" truck in the middle of U.S. 280 around 3:40 a.m. when he determined it was allegedly stolen, according to the GBI.
When Browne checked the truck, 25-year-old Croshawn Cross allegedly shot him and took his patrol vehicle, the GBI stated. As the suspect drove away, responding deputies fired shots at him, officials said.
In 2022, six Georgia law enforcement officers were killed in the line of duty, including two Cobb County deputies who were shot. A Gwinnett County corrections officer, Scott Riner, was also shot to death before his shift. Six other officers died from medical issues, according to the Officer Down website.
—
©2023 The Atlanta Journal-Constitution. Visit at ajc.com.
Distributed by Tribune Content Agency, LLC.
McClatchy-Tribune News Service