Kan. deputy killed in crash on way to call
Deputy Sidnee Carter, 22, had just completed field training
Duty Death: Sidnee Carter - [Sedgwick County, Kansas]
End of Service: 10/07/2022
---
By Michael Stavola
The Wichita Eagle
SEDGWICK COUNTY, Kan. — A 22-year-old Sedgwick County sheriff's deputy known for her bubbly personality died Friday, less than one week after she went on patrol, Sheriff Jeff Easter said in a news conference Saturday.
Sidnee Carter was southbound on 135th Street West when her vehicle collided with one heading west on 29th Street North. The crash happened around 9:26 p.m., while Carter was headed to a disturbance call. She died at the scene. The other driver was taken to an area hospital with non-life-threatening injuries.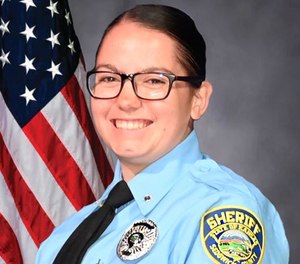 Carter dreamed of being in law enforcement from a very young age, Easter said.
"She's young," Easter said. "She had her whole life ahead of her."
Carter joined the Sheriff's Office in September 2020 and spent one and half years as a jail deputy. She entered the academy in February and graduated in July of this year. She completed field training and starting on patrol by herself Oct. 1.
"Sidnee is a very bubbly personality, extremely friendly, always helpful, was always smiling, well respected by her peers, her supervisors, and she is a little bit short in nature, but there is no hill that she couldn't climb," Easter said. "She just had that bearing about her that she just made other people want to be better because of the way she was."
She is survived by her parents, brothers and sisters, he said.
Easter said there aren't yet many details about the wreck, which is being investigated by the Kansas Highway Patrol. During a news briefing Friday night, Easter said 29th has stop signs, but 135th does not. The KHP report of the crash, which posted after Saturday's news conference, says a 28-year-old Arizona man in a Jeep Grand Cherokee "failed to yield at a stop sign" and hit the deputy on the driver's side. It says the driver had suspected serious injuries and that Carter lives in Bel Aire.
Anyone wanting to send their condolences or donations to help the family can contact Robin Busch at robin.busch@sedgwick.gov or by letter to the Sedgwick County Sheriff's Office, 141 W. Elm, Wichita, KS 67203 and putting Attention to Robin Busch.
"Our family here at the sheriff's office is grieving at this point," Easter said. "It will impact us for quite some time."
(c)2022 The Wichita Eagle (Wichita, Kan.)
Distributed by Tribune Content Agency, LLC.
McClatchy-Tribune News Service