South Texas police officer fatally shot during pursuit
San Benito Lt. Milton Resendez was fatally shot as his vehicle crossed paths with the suspects' vehicle
Duty Death: Milton Resendez - [San Benito, Texas]
End of Service: 10/17/2023
---
Associated Press
SAN BENITO, Texas — A South Texas police officer was fatally shot after he joined an hourslong pursuit of two men who fled a traffic stop and led officers on a chase through several cities before they were arrested, authorities said.
San Benito Lt. Milton Resendez was fatally shot as his vehicle crossed paths with the suspects' vehicle late Tuesday night, police Chief Mario Perea said at a news conference Wednesday. Perea said it wasn't known how many rounds were fired at Resendez's vehicle but one round struck his front bumper and another went through the driver's side door, hitting him just below his body armor in the abdomen. He was later pronounced dead at a hospital.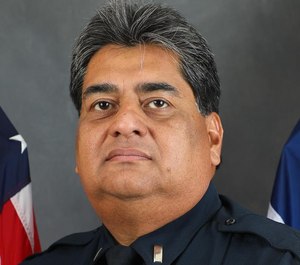 "He cared about everyone, he got along with everyone," Perea said.
Cameron County District Attorney Luis Saenz said the pursuit began around 4:30 p.m. Tuesday on South Padre Island when a truck carrying the two men, two women and two small children was pulled over for speeding on the beach. As the driver was being questioned outside of the truck, a passenger started the truck, the driver jumped into the bed and they sped off, he said.
At one point, the two women and the children got out of the vehicle, Saenz said. The women were detained and questioned.
The two suspects — Rogelio Martinez Jr., 18, of Brownsville and Rodrigo Axel Espinosa Valdez, 23, of Mexico — are facing multiple charges including capital murder, aggravated assault with a deadly weapon and evading arrest, Saenz said. Online jail records do not list attorneys who can speak on their behalf.
Saenz said that after the men were pursued into Brownsville, located on the Mexico border, an exchange of gunfire made officers stand back and lose sight of the truck around 5 p.m. After the truck was found disabled, the suspects were then spotted in a sport utility vehicle in San Benito around 10:30 p.m. The confrontation in San Benito is where Resendez was shot.
The pursuit then returned to Brownsville, where the men were arrested after fleeing from their sport utility vehicle after officers disabled it by performing a maneuver where a vehicle is intentionally bumped, Saenz said.
Perea said that Resendez spent about 30 years working as a police officer, with most of that time with the San Benito police.
"It's hard right now," Perea said. "We lost one of our own. He worked with us for so long he's not just a coworker, he's part of our family now."
Gov. Greg Abbott said in a statement that "hearts across Texas grieve with the family and loved ones" of Resendez.
The Texas Rangers are investigating.