W.Va. home confinement officer dies of heart attack while serving warrant
Michael Sillman was also working as the police chief of Grant Town, West Virginia
Duty Death: Michael Sillman - [Grant Town, West Virginia]
End of Service: 07/20/2021
---
Home Confinement Officer Michael Sillman, who was also serving as the Grant Town Chief of Police, suffered a fatal heart attack while helping deputies serve a warrant, according to the Officer Down Memorial Page. Sillman was walking through rugged terrain to reach the house when he suddenly collapsed. Other deputies began life-saving efforts but were unable to revive him, according to the ODMP.
By David Kirk
Times West Virginian, Fairmont
FAIRMONT, W.Va. — Michael Sillman, who served as Grant Town police chief and as a home confinement officer for the Marion County Sheriff's Department, was loved by many.
Sillman, 34, passed away in the line of duty on July 20. Thursday afternoon, as thunder rumbled outside, over 100 members of the community, his family, and Marion County first responders gathered in the sanctuary of South Ridge Church to honor his life.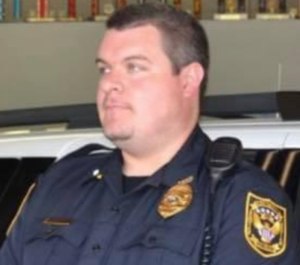 The service began with all attending first responders lining the room to step to the flag-clad casket and salute their fellow officer a final time as the rest of the attendees took their seats.
As the procession thinned, the song "Officer Down" by Hannah Ellis played over the sound system. The first of three speakers took to the podium — Gage Miller, Grant Town fire chief and friend of Sillman.
Each of the speakers shared a special part of Sillman, Miller talked about what kind of friend Sillman was.
"[Sillman] has really paved the path for the future and left some very big shoes to fill," Miller said. "But I could stand up here for hours and talk about all the good times."
Miller recounted the times Sillman wanted to drive the fire engine and joked about joining the fire department. In Sillman's memory, Miller posthumously named him an honorary member of the Grant Town Volunteer Fire Department.
"It is my great honor to inform you, by unanimous decision... that Michael Sillman has been made an honorary member [of the department]," Miller said. "He will forever remain on our roster and in our hearts."
Sillman had a sense of humor, which was personified in the second speaker, Marlene Mitchell, an administrative assistant with the Marion County Sheriff's Department. She worked closely with Sillman in his work with home confinement.
Striking a much lighter tone, Mitchell told jokes and stories of her experiences with Sillman. She made it obvious that he was funny and kind hearted, but also took his work very seriously.
"Mike would come in sometimes and we would talk about his frustrations," Mitchell said. "He would tell me his EMS stories, when he worked at Gabes in loss prevention. It showed me his character, it showed me Michael."
Last to speak was the funeral celebrant Cpl. Isaac Harmon, a member of the Fairmont detachment of the West Virginia State Police. Harmon expressed what Sillman was like as an officer and a husband.
"When I first met [Mike and Christy]... it didn't take me long to realize this couple was an awesome couple," Harmon said. "Every time I saw them they were smiling together, eating together, sharing their day together."
Sillman is survived by his wife, Christy Sillman, who is also a police officer serving in Marion County.
"Mike and Christy were always eager to share and... bring justice to the table," Harmon said. "That's what it seemed to be with them, always eager to help. Mike was great, and he will be greatly missed."
Harmon asked guests to think about what comes after death as the song, "Holes in the Floor of Heaven" by Steve Wariner played. When the song finished, he came back to the podium and spent the next 15 minutes preaching the gospel of Jesus Christ.
After Harmon's final prayer to end the ceremony, the first responders exited together. Outside, they lined the sidewalk to the hearse with rows of salutes.
The funeral procession was escorted by police. The trail of cars drove from South Ridge Church, through Fairmont, Rivesville and Grant Town, finally ending in Fairview where the internment took place.
(c)2021 the Times West Virginian (Fairmont, W. Va.)
McClatchy-Tribune News Service