Fla. officer under investigation after cameo in Playboy model video
The video shows William Beeker escorting three semi-nude, handcuffed women under faux arrest
---
Martin Vassolo and Charles Rabin
Miami Herald
MIAMI — A Miami Beach police officer has been placed on administrative duty after appearing in a Playboy model's Instagram video marching three handcuffed, semi-nude women toward police headquarters in a faux arrest.
The video, which has been viewed a combined 1.6 million times as of Monday night, was posted on the Instagram pages of the three popular models — one of whom is a Playboy covermodel.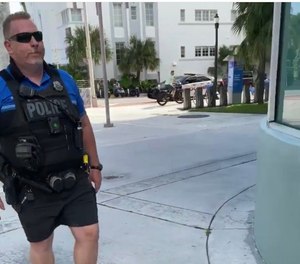 Officer William Beeker, who the women referred to as Officer Bill, was dressed in full uniform during his cameo in the viral video.
An additional video posted to the Instagram Story of Playboy model Francia James featured a speaking role for the officer.
"Thank you, Officer Bill, for letting us go," the women — surrounding Beeker — said.
He responds: "No problem. Enjoy the community. I like to protect and serve."
Beeker then speeds away on an off-road police vehicle. The videos were posted online Monday, and Beeker's bosses found out soon after.
"On Monday, October 7th the Department was made aware of a video posted to social media," read a statement from a police spokesman. "Chief Richard Clements immediately launched an Internal Affairs investigation and placed Officer William Beeker in an administrative capacity while the investigation takes its course."
It wasn't clear if Beeker was on or off-duty when the video was recorded, or if the All-Terrain-Vehicle he used during the shoot belonged to the police department. A call to the Fraternal Order of Police, the union that represents Miami Beach police officers, was not returned Tuesday morning.
The department was embroiled in controversy in the past because of a cop riding an ATV without authorization.
It was just before sunrise in June 2011 when Miami Beach police officer Derick Kuilan and a partner showed up at the Clevelander Hotel in South Beach. After mingling with a group of women celebrating an upcoming wedding, Kulian offered the bride-to-be a ride on the beach on his ATV.
A few blocks from the Clevelander and near the water, the ATV struck a couple who had just come out of the water. Both suffered broken legs and required several surgeries. Kulian's blood-alcohol level was found to be above the legal limit and he was charged with two counts of driving under the influence, two counts of reckless driving and causing serious bodily harm.
At trial the women celebrating the bachelorette party said they thought the officers were strippers sent to spice up the party.
Kulian was convicted of two counts of reckless driving with serious bodily injury, lost his job and was sentenced to 18 monmths in prison and 18 months house arrest.
The ATV scandal came during a tumultuous time for Miami Beach police, which suffered several embarrassing high-profile incidents that gained worldwide attention. Five weeks before Kulian struck the beachgoers during Memorial Day Weekend, several officers from several departments fired more than 100 rounds into a slow-moving vehicle on Collins Avenue that police deemed a threat. No weapon was ever found in the car and its driver Raymond Herisse did not survive.
For the past few years and with the exception of a series of brawls captured on cellphone video during this past Memorial Day Weekend, Miami Beach has managed to avoid controversy.
Miami Beach Commissioner John Elizabeth Alemán issued a statement on Facebook calling the recently-released video of Beeker and the models, "absolutely offensive."
"This is absolutely offensive and I cannot believe an officer of our force would engage in something like this," she wrote in a Facebook comment. "With as many challenges as we face as a community, how dare he? It's a mockery of all of our public servants who strive to protect and bring dignity to our city. I'm saddened and angry."
McClatchy-Tribune News Service