Judge orders release of ex-Dallas cop accused in 2 murders
The judge decided police did not have enough evidence to hold former officer Bryan Riser
---
By Krista M. Torralva
The Dallas Morning News
DALLAS — Dallas County Criminal Court Judge Audrey Moorehead ordered the release of former Dallas Police Officer Bryan Riser who was charged with two counts of capital murder.
Morehead decided police did not have enough evidence to hold Riser after listening to more than two hours of testimony by Homicide Detective Esteban Montenegro at a hearing about whether the case should go forward to a grand jury.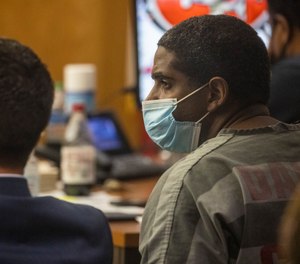 Riser, who wore a striped jail uniform, let out an audible sigh when the judge announced her decision before he was quickly escorted out of the courtroom. He will go through the jail before being freed.
Riser was arrested on capital murder charges and fired last month in the 2017 slayings of Albert Douglas and Lisa Saenz. According to newly updated arrest affidavits, he was questioned that March just days after a string of killings.
Prosecutors took the rare step of publicly disagreeing with the lead detective that they had enough evidence to prosecute the case.
"Where we stand as a district attorney's office right now today, we do not feel there's sufficient probable cause for this case," Dallas County prosecutor Jason Fine said to the judge after Montenegro's testimony.
An intense exchange while Fine questioned Montenegro on the witness stand revealed that police and prosecutors first discussed the case in December 2019, but prosecutors didn't believe police had a solid case. But on Wednesday, Montenegro said he didn't have any additional evidence since then except three jail calls between Riser and family members that he believed implied his guilt.
Fine said the investigation is still active.
"I have no idea where this investigation is going and if there's sufficient probable cause down the line, we'll take the case, bring it before a grand jury, we'll get that indictment and take it to trial just like we do on any other case where we have the evidence," Fine said.
Riser's defense attorney Toby Shook said he had nothing to do with the murders.
©2021 The Dallas Morning News. Visit dallasnews.com. Distributed by Tribune Content Agency, LLC.
McClatchy-Tribune News Service