A manifesto, a manhunt, and a murderous mess
---
Cops across California are looking for Christopher Jordan Dorner, a former Navy lieutenant and ex-LAPD police officer who has declared 'war' against his former law enforcement brothers and sisters.
In a manifesto posted to his Facebook page, Dorner vowed to "bring unconventional and asymmetrical warfare to those in LAPD uniform whether on or off duty." 
If there had ever been any doubt as to the conviction with which Dorner wrote those words, it was erased this morning when Dorner reportedly ambushed police officers in two separate shootings in Riverside County, killing one and injuring two more.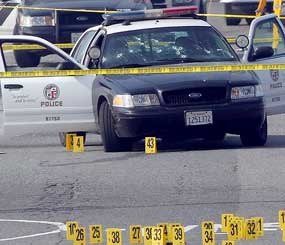 Armed and Extremely Dangerous
It is believed that Dorner, who was fired by LAPD in 2009, also killed 28-year-old Monica Quan — the daughter of a retired LAPD officer — and her fiancé, 27-year-old Keith Lawrence. 
Quan was the daughter of former LAPD officer Randal Quan, who Dorner claimed in his so-called manifesto bungled his LAPD termination appeal.
According to FOX News, Dorner had made false statements about his training officer Sgt. Teresa Evans, alleging that during a 2008 call for service, she kicked "suspect Christopher Gettler, a schizophrenic with severe dementia."
Dorner's accusation against Evans ultimately resulted in his own dismissal in 2009.
Apparently, he's been stewing on that ruling ever since.
Dorner's manifesto threatened more than two dozen people, some of whom have relocated for their safety while others are guarded by more than 40 armed LAPD protection details.
"This is a vendetta against all Southern California law enforcement," said Los Angeles Police Chief Charlie Beck in describing the manifesto.
"He knows what he's doing," Beck added. "We trained him."
BOLO, Christopher Jordan Dorner
According to reports, Dorner may have made an attempt to flee to Mexico late yesterday, but has probably abandoned that plan. He reportedly tied up the owner of a 45-foot vessel moored at the Southwestern Yacht Club in San Diego, but was unable to get the boat's engine started and fled.
During one of his news conferences today, Chief Beck urged Dorner to turn himself in, but nobody with whom I have spoken today on the matter believes that's even remotely possible.
The consensus among me and my contacts — active duty and retired cops from several western states — is that Dorner has gone to ground and will only resurface for future attacks. Dorner is...
• A 33-year-old black man — six feet tall weighing 270 pounds
• A football player for Southern Utah University — graduated in 2001
• A former U.S. Navy lieutenant, with at least one tour in Iraq
• A rifle marksman and pistol expert, according to Pentagon records
• Believed to have tossed his LAPD badge and military ID near San Diego Airport
• Possibly driving a 2005 Nissan Titan pickup truck blue in color
• Possibly using two sets of license plates #8D83987 and #7X09131
• Thought to have last been seen on Magnolia Boulevard in Corona
A Blue-on-Blue Nightmare
This is not the first time, nor will it be the last, that a cop swaps sides.
Just under a year ago, I and several of my Police1 Columnist colleagues decided to tackle the delicate topic of blue-on-blue shootings.
We looked at the issue from a variety of angles, from accidental shootings of plain-clothes and off-duty cops, to incidents like this one where a good guy wakes up one day and elects to become a bad guy. 
We discussed issues like:
• Adding worst-case-scenario visualizations to your mindset training — seeing, in advance, situations in which you'd have to take on someone you'd previously considered a friend
• Dealing with the aftermath of such an event — having prepared agency or personal support mechanisms to contend with any potential emotional or mental repercussions
I realize, of course, that Dorner is no longer sworn, nor is he even POST-certified, but he once was.
By all available indications, he was a hard-charging cop — the kind of guy who went to additional range training even though he didn't need to.  
It's abundantly clear that Dorner — an ex-cop and a former Navy lieutenant — presents officers pursuing him with great risk. 
A Wily Fugitive
According to reports, a pickup truck matching the one believed to be driven by Dorner has been found — torched — near Big Bear Park about 60 miles northeast of his last known location.
"Fresh tracks" have been found in the snow.
Teams are apparently following those tracks.
If Dorner is hiding out in the woods — who among us doesn't immediately think of the classic David Morrel novel First Blood, which became a movie of the same name — we could be looking at a long-term operation.
His military E&E training will serve him well.
Then again, warm bodies tend to stand out in cold temperatures when you're using the right equipment.
I've been a longtime advocate for police use of UAVs equipped with thermal, IR, and other sensors for precisely this type of situation.
There are doubtlessly LAPD and other law enforcement helicopters already deployed in the search. I wonder if there are also UAV systems in play as well.
This is why I personally tend to believe that he parked the truck, torched it, and reversed direction back toward a more-populated urban area. In essence, the truck would be a feint, in my opinion. He'd know about IR and thermal, and he'd know enough to stay out from under the eye, so to speak. 
Whether he is found in the hills, in an urban area, or someplace else, it's safe to say that there will be more gunfire before this whole thing is over. And that brings us right back to mental preparation for a blue-on-blue confrontation — or in this case, blue-on-ex-blue confrontation. 
My reminder to every officer out there — whether or not you have to contend specifically with Dorner, or face a similarly-dangerous duty today — is that when the time to physically perform arrives, the time to physically prepare has passed.
However, your mental-preparation drills may continue every moment of every day up to and including that moment of truth on the streets. 
Stay safe, my friends. You are in my thoughts and prayers... always.