A must-read: "Blue Lives in Jeopardy"
The book is the second in a trilogy examining actual line-of-duty events that have ended the lives of law enforcement officers in Los Angeles County
---
Reprinted with permission from CityWatch.
By Phyllis M. Daugherty
"Blue Lives in Jeopardy - When the Badge Becomes the Target," recently released by co-authors former LA District Attorney Steve Cooley and Los Angeles County career prosecutor and office historian Robert (Bob) Schirn, is the second in a trilogy of books examining actual line-of-duty events that have ended the lives of law enforcement officers in Los Angeles County.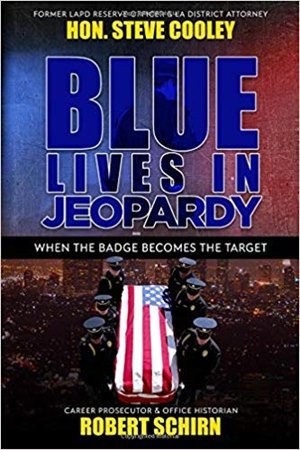 Their first book, "Blue Lives Matter," was released in 2017 to national and international acclaim. Its theme is, "When it comes to killing a peace officer, we do not forgive, we do not forget, and we do not give up," meaning that law enforcement agencies are especially diligent in investigating, solving and prosecuting cases involving the deaths of officers. 
Their goal was to write – with the input and expertise of many individuals who actually investigated and prosecuted the cases examined – a series of books to serve as reminders and "training manuals" for law enforcement officers and to prevent line-of-duty deaths from occurring. 
A major theme of Book Two, "Blue Lives in Jeopardy – When the Badge Becomes the Target," is the disturbing trend of more and more officers being targeted for assassination merely because they are wearing a police uniform and/or performing a police function. 
This book, besides being riveting, could not be more timely! 
On May 6, 2019, the FBI released its annual statistical report showing that 106 officers were killed in line-of-duty incidents in 2018. Of these, 55 officers died as a result of felonious acts in 28 states and Puerto Rico. This was nine more than the 46 killed in 2017. 
The average age of the officers feloniously killed was 37 years old. Regarding the most frequent circumstances surrounding the deaths, 23 occurred during investigative/enforcement activities and 11 were ambushed. 
Offenders used firearms to kill 51 of the 55 victim officers. Vehicles were used to kill the other four. An additional 51 officers died in accidents. 
About the authors
Widely known as the three-term elected District Attorney of Los Angeles County, it is not common knowledge that Steve Cooley also served as a reserve LAPD police officer for over five years. 
Combining the experience of these two career prosecutors, Steve Cooley and Bob Schirn are uniquely qualified to recognize the 25 cases that are appropriate to examine and identify simple steps and protocols that are so basic and essential that they are often taken for granted, but the absence of which may cost the life of an officer or officers at the scene. 
At the end of each chapter, the authors include a segment on "Lessons Learned," as they did in Book One, "Blue Lives Matter."  
This book stresses the importance of a strong working relationship between investigators and prosecutors in solving crimes and planning and putting together the best possible cases for criminal prosecution. 
The book includes a stern reminder that there are over 400 known street gangs in Los Angeles County that use violence to maintain control over their turf and the lucrative narcotics trade in their territories.  
Chapters 5-8 involve a background of gang violence or gang influence: "Four of the shooters were gang members and the fifth shot an officer to impress the street gang he wished to join. None of the officers was even able to unholster his weapon before being taken by surprise or ambushed." 
This Bomb is a Booby Trap 
This chapter describes the deaths of two LAPD officers. One, Arleigh McCree, was considered a leading expert on explosives and international terrorism who had helped investigate the bombing of a U.S. Marine Corps Barracks in Lebanon. His partner, Ronald Ball, had worked out of the Van Nuys Division as a patrol officer. He joined the Firearms and Explosives Unit and was considered an expert bomb technician. He planned to retire in three years. They were called to disarm a pipe bomb in a North Hollywood garage. McCree and Ball each left behind a wife and children. 
This book must be taken seriously 
You cannot remain unmoved by the raw courage and intense dedication of the officers who lost their lives in these incidents. You can't help but wish someone had reminded them to take more precautions confronting the dangers that ended their watch. 
That is exactly what Steve Cooley and Bob Schirn have done in this book, which opens with this quotation by a survivor, "It's not how these officers died that made them heroes, it's how they lived." 
If there was ever a poignant reminder of how fragile and interconnected life is and how closely we are bound to the men and women who choose a career in law enforcement to protect us, "Blue Lives in Jeopardy – When the Badge Becomes the Target" is it.
NEXT: The dirty dozen: Updating the '10 deadly errors' of policing
---
About the author
Phyllis M. Daugherty is a former City of Los Angeles employee and a contributor to CityWatch.