Booby trap impales officer investigating marijuana grow operation
Officer Dustin Cook impaled both feet on a sheet of plywood with over 100 upward-facing screws
---
By Police1 Staff
WYOMING, Mich. — An officer, who was investigating a marijuana grow operation, was seriously injured after he was impaled by a booby trap. 
Officer Dustin Cook was investigating a break-in at a medical marijuana grow site Sunday when he climbed a gate to reach a broken window, WZZM reported. On the opposite side was a piece of plywood that had over 100 upward-facing three-inch screws on it.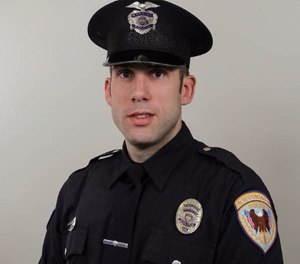 Cook, a six-year veteran, impaled both of his feet and was taken to a local hospital to be treated for injuries. 
"He had three of these [screws] go into his feet," Police Chief James Carmody said. "One in one heel and two in the other foot. One went through the center of his foot and did some damage to one of the tendons."
Officers on the scene entered the building and discovered two suspects who fled. Police pursued and detained Tyquan K. Hassel and Andre D. Sims, both 19. Hassel allegedly threw a handgun while fleeing. 
According to WZZM, officers discovered over 90 mature marijuana plants inside the building. 
Carmody is trying to figure out why the suspected grower used the booby trap when the building has an alarm. 
"We responded to that alarm,'' Carmody said. "Did they not think that we might not walk around the perimeter of that building to try to access the building?  For some reason, the moron that put it down there didn't quite make that connection.''