'Heck of a cop': St. Louis officer fighting for life after shooting
Officer Colin Ledbetter "still has a long way to go," his father said Thursday. A second officer was shot in the leg
---
By Katie Kull and Erin Heffernan
St. Louis Post-Dispatch
ST. LOUIS — St. Louis police officer Colin Ledbetter remained unconscious and fighting for his life Thursday, a day after he was shot in the line of duty, his family said.
"He's doing very well, better than expected," Steve Ledbetter said of his 25-year-old son, who has undergone hours of emergency surgeries over the past two days. "He's still not conscious, and there's still a long way to go."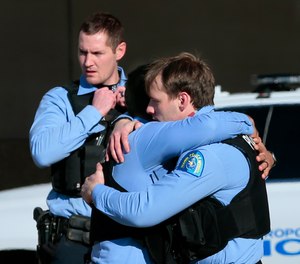 Ledbetter's heart stopped after he and another St. Louis police officer were shot Wednesday afternoon, Steve Ledbetter said. The two officers were taken to Barnes-Jewish Hospital.
The two officers were wounded while chasing a car connected to a homicide in Ferguson, police have said. At least one of three people in the fleeing car shot at officers, hitting Ledbetter in the stomach and another officer in the leg, police said.
The officers shot back, and one of the men in the car, 23-year-old Equan Hopson, of St. Louis, was hit and later died from his injuries.
Prosecutors charged both surviving occupants of the car — August Burns, 23, of Florissant, and Clyde Thomas, 35, of Farmington — with resisting arrest. Burns is also charged with unlawful possession of a firearm.
Burns and Thomas have been convicted of previous felonies, according to court records.
Meanwhile, Ledbetter's family is hoping the young officer's progress continues.
Ledbetter joined the police department in October 2017 because he thought St. Louis police were "the best in the world," his father said.
"He always had a deep caring about other people and couldn't stand seeing people hurt others," Steve Ledbetter said. "Colin is soft but tough. He's a heck of a cop."
Around 1:15 p.m. Wednesday, Ledbetter and other officers started following a white Toyota 4Runner SUV that had been spotted at the scene of a homicide hours earlier, according to an account from St. Louis County police, who are leading the investigation.
The SUV fled, weaving in and out of traffic as officers chased it into Ferguson. The SUV driver eventually lost control and crashed near West Florissant Avenue and Lang Drive, according to court documents.
There, at least one of the SUV's three occupants, while running away, fired at the officers, and officers shot back, according to St. Louis County police.
St. Louis City police chief asks the public to pray for the two officers shot after the Ferguson shooting, one of whom is in critical condition pic.twitter.com/qASoqgRFzV

— The Post Millennial (@TPostMillennial) January 26, 2022
Burns was riding in the back of the SUV. As he got out of the 4Runner and tried to run away, a shotgun fell from his seat. He was also wearing an ammunition carrier holding shotgun shells, court documents said. He is being held on a $250,000 cash bail.
Thomas was also riding in the back of the car and was arrested while trying to run away, court documents said. His cash bail was set at $50,000 Thursday.
Along with Ledbetter, the officer shot in the leg remained hospitalized Thursday. Both were wearing bulletproof vests when they were struck, St. Louis police said.
Authorities did not identify the homicide that led to Wednesday's chase, but there was just one killing reported overnight by police. It happened about 1 a.m. Wednesday outside Diana's Royal Palace, a bar in the Greater Ville neighborhood.
In that shooting, police said four men approached another group of four people sitting in a car, announced a robbery and took some of their property. A security guard at the business then fired shots at the group, and one of the suspected robbers, in his 30s, was killed.
(Joel Currier of the Post-Dispatch contributed to this report.)
©2022 STLtoday.com. Distributed by Tribune Content Agency, LLC.
McClatchy-Tribune News Service