How police can educate the public about dangers of toy guns
It's Parenting 101, but many individuals are not educating their kids about the peril they put themselves in when wandering about town with replica firearms
---
Grand jury decisions to not indict officers in the deaths of Michael Brown and Eric Garner led to thousands of protesters shutting down streets in Oakland, Chicago, Los Angeles, New York, and elsewhere. Another case in which an officer was forced to take the life of a suspect has received some media attention, and is very likely to cause more unrest when (not if) that officer is not indicted. 
A grand jury is expected to consider whether charges are merited in officer-involved shooting death of Tamir Rice in Cleveland (Ohio), but the fact is, the 12-year-old boy was brandishing what any officer might believe to be a real gun. In retrospect, we now know that it was a toy, but rapidly unfolding life-and-death confrontations happen in the now, not in retrospect. 
After-the-fact second guessing — commonly done by people who know nothing about police work, police training, or police officers — fails to take into account the legal standards established by the United States Supreme Court in that officers are to be legally judged on whether their actions are "objectively reasonable" in light of the facts and circumstances confronting them at that moment, not with the clarity of 20/20 hindsight vision.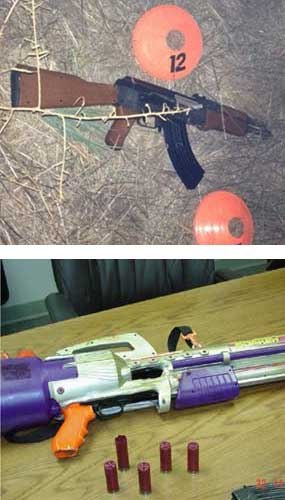 Replica guns are deadly toys
Following the case in Ohio, Dan Losada, Chief of the Knoxville (Iowa) Police Department, discussed the severe safety implications — for officers and subjects alike — when dealing with individuals who are armed with toy guns.
"I keep hearing the media stressing the lack of a red or orange tab on the end of the gun as a reason for the shooting. The implication is that if the tab had been on the gun, the shooting would not have happened," Losada said. 
"This is a real concern for me. I was already an officer when these tabs first became required. I remember shortly thereafter seeing photos of guns taken from gang bangers where they had wrapped colored tape around their gun barrels to make them look like toys. A few years ago custom coatings for guns became the rage. People could now get guns in any color with any pattern. Red and blue guns were no longer just training aids and could be real."
Losada recalled photos of a "super soaker" toy water gun concealing a very real, very functional, and very deadly Mossberg 12-gauge shotgun which I first wrote about it back in 2009.  
There have been numerous other examples found following the Mossberg 'super soaker' in the past half-decade.
"Just this week, I received an email where someone had taken a plastic cap pistol, inserted the metal barrel from an Airsoft, and made it a functioning .22 pistol," Losada said. 
When Losada was in charge of the property room for the Hastings (Neb.) Police Department, he mounted a display of seized weapons on a target silhouette with a sign attached asking people to identify the real guns. There were weapons looking like an Uzi, pistols, and revolvers of several styles and sizes. Some were plastic and some were metal. The only actual weapon on the board was a pen that was clipped to the sign. It was a single-shot .22. No one ever picked it as being a firearm. 
Losada said that he used this display as part of an effort to educate people about the dangers officers faced when dealing with weapons. He told people that I was going to show them a weapon and they had to decide if it was real or not in one second. 
"We did have a few cases where a kid with toy guns had an encounter with police. Officers drew their weapons, gave orders, and the cases were resolved with no injuries. Some parents tried to raise an issue about officers pointing guns at their child, but the media had already seen our presentation and the complaints never gained any traction with the media."
Parenting 101: Gun Safety
Because my son and I enjoy getting into NERF gunfights in our house, I've repeatedly had "the talk" with him about safety and toy guns. 
Rule #1: "When a cop tells you 'drop the gun' — you drop the gun, immediately."
Rule #2: "When a cop asks to see your hands — make like a goal post and spread your fingers."
It's Parenting 101, but Losada and I agree that it seems many individuals are not educating their kids about the peril they put themselves in when wandering about town with replica firearms.
"Departments across the country need to start educating the public about the dangers of kids with 'toy' guns. Officers are trained that every gun is a real gun no matter what it looks like until that officer has control of the weapon and can verify that it is a toy. It does not matter that the gun had a red band around the barrel, was painted psychedelic colors, or was being held by someone appearing to be very young. The gun does not care how old the person holding it is. As long as the person can handle the five-pound trigger pull, it will fire and do damage to whatever or whoever is standing in front of it."
The pair of images above should tell parents and guardians everything they need to know about why cops are trained that all guns are real, and all guns are loaded, until proven otherwise. The top picture is the Airsoft "toy" held by Andy Lopez when he was shot and killed by Deputy Erick Gelhaus of the Sonoma County (Calif.) Sheriff's Office. The image below is a fully-functioning 12-gauge Mossberg disguised as a toy. 
While my heart goes out the mother of Tamir Rice — who says she wants the police officer convicted for killing her son — my heart also goes out to the man who was confronted with what appeared to him to be a deadly threat. That officer was faced with a truly terrible situation, and he is in my prayers. 
Yes, there rare instances in which an officer's use of force may be deemed to be excessive, but in these three recent (and well-known) cases, the subjects determined their fates by not complying with lawful orders. Each was a preventable tragedy. I'm hopeful that we can use these incidents to educate the public about how we avoid similar heartbreak in the future.