Officers killed in helicopter crash praised as heroes
Mourners have made a make-shift memorial for the officers at the site of the crash
---
Associated Press
ATLANTA — Mourners have been leaving flowers, cards and other mementos at a makeshift memorial near the site of a police helicopter crash that killed two Atlanta officers who were searching for a runaway boy.
The chopper struck a power pole, them plummeted to the ground and exploded, killing both officers on board late Saturday night, authorities said. No one on the ground was hurt.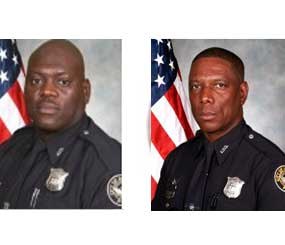 A trust fund has been established for the families of the officers, 48-year-old pilot Richard J. Halford and 40-year-old tactical flight officer Shawn A. Smiley. Wells Fargo bank officials say they will start taking donations at noon Monday for the trust funds.
The 9-year-old boy was found wandering on a city street a couple of hours after the crash, Atlanta police spokesman Officer John Chafee said Sunday. He ran away after being scolded by his mother.
"All I could do was cry because somebody lost their life," the boy's mother, Amire Shakir-Fulford, told Atlanta station WSB-TV. "I just want to tell their families I'm so sorry."
Shakir-Fulford said she feels responsible for the officers' deaths.
"My child can come home," she added. "They can't go home and hug their children, their wives, their relatives, nobody."
A team from the National Transportation Safety Board was expected to be in Atlanta on Monday to investigate the cause of the crash.
The NTSB investigators were going over maintenance records and had talked to witnesses.
"They saw the aircraft, they heard the aircraft, and then they saw a flash of light when it hit the pole and then it crashed into the roadway," investigator Ralph Hicks said.
The wreckage of the OH-6A helicopter has already been moved as investigators worked to piece together what happened, said Eric M. Weiss, a spokesman with the National Transportation Safety Board.
Part of the helicopter's landing gear had to be removed from the cables with the help of the power company.
The NTSB investigators were going over maintenance records and had talked to witnesses.
Atlanta Police Chief George Turner praised the two officers as public servants who died honorably in the search for the missing boy. Both men were fathers. Smiley had three children under the age of 10.
"Every day, they provided air support for our officers, assisting in major events and searches for suspects and missing persons," Turner said in a statement. "Their value to our citizens and our officers on the street is incalculable."
Copyright 2012 Associated Press