Wash. officer shot; suspect in custody
The 61-year-old officer was listed in critical condition following surgery for a head wound
---
By Gene Johnson and Lisa Baumann
Associated Press
SEATTLE — Police arrested a suspected gunman early Friday following an hourslong standoff in a community north of Seattle, after a police officer was shot and seriously wounded, the Washington State Patrol said.
The 61-year-old Mount Vernon officer was listed in critical condition at a Seattle hospital following surgery for a head wound.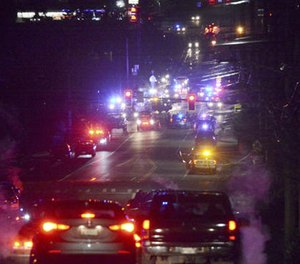 A "primary suspect" was taken into custody along with two other suspects, the patrol said.
A shooter barricaded himself in a house and fired at police, the patrol said in a statement. Hostage negotiators spent several hours communicating with man.
Initial reports said at least one hostage had been held during the standoff, but the latest patrol release did not refer to a hostage. It also did not provide any more information regarding the other two people taken into custody.
Police have only identified the suspect as a 44-year-old man with a lengthy criminal history.
Jail records show a man named Ernesto Lee Rivas was arrested overnight at a home located at the intersection where the shooting was reported. The online roster for the Skagit County Jail shows Rivas was booked at 1:55 a.m. Friday following his arrest.
Court and Washington State Patrol records show that Rivas is 44 and has eight felonies on his record, including unlawful possession of a firearm in 2011 and unlawful imprisonment in 1998. He was subject to a domestic violence protection order last year after the mother of his child accused him of stalking her at work.
The jail records say Rivas was booked for investigation of first-degree murder, though the officer remains in critical condition at a Seattle hospital. It was not immediately clear if Rivas has obtained an attorney.
Washington State Patrol Sgt. Keith Leary told reporters earlier the officer had been wounded Thursday evening while responding to the call about a shooting victim and a suspect began shooting from a house.
Leary said the victim from the initial call was grazed by a bullet and was taken to a local hospital for treatment. It wasn't immediately known if the two shootings were connected, Leary said.
The wounded male police officer with some 30 years on the job was initially taken to Skagit Valley Hospital, before being transferred to Harborview Medical Center in Seattle with a gunshot wound to the head, according to hospital spokeswoman Susan Gregg.
Earlier reports said the officer was in serious condition, but the hospital said Friday his condition was critical.
The neighborhood in Mount Vernon, about 60 miles north of Seattle, was closed by police while officers and a SWAT team were attempting to negotiate.
The shooting comes less than a month after a Tacoma police officer was killed responding to a domestic violence call. Officer Reginald "Jake" Gutierrez, 45, was fatally shot Nov. 30. The suspected gunman was killed by a sheriff's marksman, ending an 11-hour standoff.