Would patrolling in pairs stop ambush attacks on cops?
The overwhelming majority of ambush murders of our coppers have occurred when the LEO was alone
---
According to the National Law Enforcement Officers Memorial Fund, the number of officers shot and killed in ambush attacks (at the time of this writing) now totals 20 — the highest total since 1995. NLEOMF reports that 44 officers have been killed in fatal ambush shootings since 2014. In just the past few days, five officers have been shot — two of them fatally. At least three of the incidents appear to have been cold-blooded ambush-style attacks.
The three most-recent ambush attacks took place in San Antonio (Texas), St. Louis (Missouri), and Sanibel (Florida). According to NLEOMF, police officers have also been shot and killed in ambush attacks in Salt Lake City (Utah), Danville (Ohio), Bel Air (Maryland), Prince William, (Virginia), Landover (Maryland), and Richmond (Virginia) this year. 
Two Palm Springs (California) police officers were murdered in an ambush in October. In early July, five officers were killed in Dallas while they were protecting a protest march. Three more were killed in ambush later that month in Baton Rouge. All of these officers were murdered because they wore a badge — and that is simply outrageous.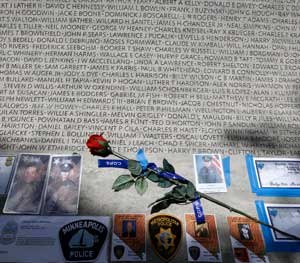 Patrolling in pairs
"Clearly, our officers are facing horrendous and growing risks while serving and protecting our communities," NLEOMF President and CEO Craig Floyd said in a written statement. "It is time for all elected officials, the media, and law abiding citizens everywhere to stand in solidarity with our law enforcement professionals and condemn and confront those who are directing violence and hate toward them."
While it is true that there have been several ambush attacks targeting multiple officers, the overwhelming majority of ambush murders of our coppers have occurred when the LEO was alone. Recognizing this, many police agencies have begun deploying officers in pairs on patrol. 
In the immediate aftermath of the horrific attack in Dallas, police leaders in Albuquerque, Boston, Los Angeles, New York, St. Louis, Philadelphia and Washington began working in pairs. This was met with the approval local police unions, as well as the rank and file cops on the street. Following the spate of ambush attacks in the past few days, it's likely that more cities will likely follow suit. 
Prior to her retirement — and her move to become the head of security for the National Football League — Washington, D.C. Police Chief Cathy Lanier gave the order to partner up. 
However, Lanier also famously said, "Looking at the type of attack that happened in Dallas, a two-man car, a four-man car, a 10-man car, isn't going to make much of a difference. But it makes the officers feel much safer."
With all due respect to Chief Lanier, I beg to differ. 
I contend that officers in pairs are significantly safer than those who patrol solo. Simply by using good contact-and-cover tactics, partner officers have proven time and again to be better protected against sudden attack. 
Beyond the basic common sense of "strength in numbers" during contacts with potentially dangerous subjects, good contact-and-cover tactics keep officers are than when they deal with a subject alone. Further, the response to unexpected attack is also more effective. 
Yes, patrolling in pairs is no panacea. Recall that NYPD Officers Wenjian Liu and Rafael Ramos were in a two-officer squad when a gunman shot and killed them both from the passenger side window. 
But I am constantly reminded of my time spent learning to fly airplanes, and the associated rule of redundancy: two is one and one is none.
Defending the patrol vehicle
As I have previously written, officers are particularly vulnerable to ambush attacks in their patrol vehicles, especially when the vehicle is at a stop. Whether writing a citation, completing paperwork or simply checking the in-car computer, a solo officer looking at anything else but their surroundings briefly forfeit at least some of their situational awareness. 
With two cops in the car, one set of eyes can always be watching for potential threats. 
For the past several decades, single-officer squads have been the norm, but in this age of increased violent attacks on police officers, they may become the exception. 
The argument in favor of single-officer squads has been almost purely economic, with management pointing to the fact that the same number of officers can patrol twice as much area. The thinking has been that this is better use of police manpower. The contention has been that so-called "routine" calls can be handled by a single officer. 
But at what cost? This trend of ambush attacks on our officers is undeniable. I contend that it's time to rethink solo-officer squads — no argument based on economics trumps officer safety. 
None. 
Changing strategies and priorities
Every action has consequences, and reducing (by as much as half) the number of squad cars on the street will have an obvious effect on the number of calls to which any shift can respond. This will cause a tectonic shift in how police leaders look at patrol zones and how many cars are assigned to them. In terms of managing how and where officers are positioned during their tours, I believe that predictive policing software will become increasingly used — and to successful effect. 
This new paradigm will also have a significant impact on how the public and the police directly interact — or more to the point, how they don't. 
As I've previously written, a trend of de-policing has developed in which cops have effectively become firefighters — hunkered down, reactively answering radio calls, showing up to the scene (long after the bad guys have departed), and taking a report. 
In the not-too-distant future, they may not even be doing that — the entire process of taking a report for a property crime may exist entirely on the Internet. 
For the past several years, many agencies across the country have turned to a host of technology solutions to enable citizens to self-report minor crimes — mostly property crimes — to law enforcement. I predict that this will expand exponentially in coming years. 
Sending cops to a scene which has long-since become inactive is a terrible misappropriation of resources. Citizens are more than capable of taking pictures of the smashed-out window and a list of the possessions missing from the property. 
Addressing some unfortunate realities
Admittedly, some agencies don't have staffing levels to even consider two-officer patrols. In fact, a substantial number of agencies have only one officer on duty at any given time — many don't even have 24-hour police coverage. 
For those agencies, the fact of the matter is that officers are SOS-NBA (solo-officer squad, no backup available). I recognize that there are tactical considerations to keep in mind in those jurisdictions. 
Too many of the 18,000+ police agencies in the country are understaffed. Perhaps the money not spent on maintaining those now-idle squad cars can be used to hire more police officers? We need to find a way to increase the number of officers on the streets, and this current trend of unprovoked attacks on cops may provide the impetus for a spike in hiring. 
Those funds can be directed to technology solutions that help officers be more efficient with their time on the street. Certainly, gunshot-detection sensors and predictive policing software can help, but the fact is, more cops on the streets is the answer. 
There's your "economics argument" right there. 
Hooah?
Putting an end to the killing
"The IACP will convene a task force to address the issue of violence against the police and to make concrete recommendations to prevent further tragedies and to help safeguard those who have made it their mission to protect others," IACP President  Donald De Lucca said in a written statement. "The recommendations will include both guidance for law enforcement agencies and policy changes that can and should be adopted by the new U.S. administration and Congress."
According to NLEOMF, 127 officers have died in the line of duty nationwide this year. Sixty have been killed by gunfire — a 67 percent increase over the same time last year. More officers have been shot and killed this year than during any full year since 2011.
Officers have been murdered while sitting in their patrol vehicles, serving warrants, on 'suspicious persons' calls, responding to domestic disputes, investigating robberies, and a host of other police activities. 
This is totally unacceptable. 
The "routine" call is just as dangerous as a felony stop or a warrant service. We need to put appropriate safeguards in place to protect officers from sudden attack. 
Stay safe out there my friends.