2 Pa. troopers injured after 18-year-old street racing participant drives into them
The troopers were struck when the drag racer failed to yield; a trooper then fired his service weapon, killing the 18-year-old
---
By Sarah Roebuck
Police1
PHILADELPHIA, Pa. — Two troopers were injured after an 18-year-old participating in illegal street racing drove his car into them, Pennsylvania State Police said. 
Pennsylvania State Troopers responded to I-95 in Philadelphia around 3:20 a.m. Sunday after getting a report about several vehicles and pedestrians illegally blocking the road, WCAU reports.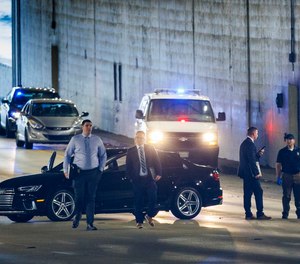 Before troopers arrived, they were notified of possible shots fired in the area.
When troopers arrived on the scene, there were several drivers participating in drag racing, performing "burnouts" and "drifting" as people lined the road and watched outside of their cars. 
State police attempted to stop one of the drivers, identified as 18-year-old Anthony Allegrini Jr. According to state police, Allegrini failed to yield and struck two troopers with his car. 
A trooper then pulled out his service weapon and fired, hitting Allegrini, state police said. Allegrini was pronounced dead at the scene. 
State police said the troopers who were hit suffered minor injuries. 
The incident remains under investigation by the Pennsylvania State Police and District Attorney's Office.